Airtel has got people talking on Twitter. See for yourself!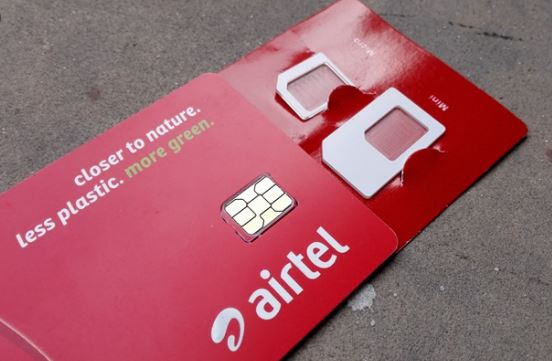 One of Nigeria and Africa's biggest voice and data service providers Airtel, has been having incessant service/network downtime this week causing so many people to express their frustrations via Twitter. We saw some hilarious comments and decident to share with you.
I'm convinced that Glo is better than Airtel tbh.

— Lamarr ❁ (@Kinglamarr___) May 20, 2020
When Airtel users port to Glo network after a few hrs of network failure

Glo network: pic.twitter.com/DCDM3UCTQZ

— Bσb (@its_Upendee) May 20, 2020
Sim 1: Glo
Sim 2: Airtel
Club: Arsenal
Best food: Ogbono soup
Mobile phone: Itel
Charger: Oraimo
Earpiece: One Ear
Girlfriend: Calabar girl
Laptop: HP 255
Best drink: Limca

The most depressed Nigerian right now.

— Oyiga Micheal (@Nsukka_okpa) May 20, 2020
100MB is the new 1GB… Only Airtel subscribers understand pic.twitter.com/bB3iYSYb42

— Oluyemi Opeyemi (@OluyemiOpeyemi7) May 20, 2020
Airtel!!!! Network is poor and they will still be drinking data…..

1GB is the new 100MB🤦🏾‍♀️🤦🏾‍♀️ pic.twitter.com/qseHoeUk6U

— Morayooluwa Ogunjimi Mariam (@Morayo_om) May 20, 2020
Please Airtel I know you people think I have money because I'm loading data anyhow the Coro period
But please You can't charge me 50# for SMS when I'm not texting buhari@Airtelnigeria#airtel pic.twitter.com/Jv98rRj6Qa

— Stunner😈 (@thedarkstunner) May 20, 2020
Airtel: We have the worst network

Glo: pic.twitter.com/VcgEa4diXg

— Mazi Zeus☇ (@TunzDev) May 20, 2020
Airtel what is this na 😭😭😭

May you not attract curses to yourself.
Stop Playing with me.
I need to port ASAP pic.twitter.com/19yhAp7Szm

— Comfort (@_Comfie) May 20, 2020
Data is almost exhausted and Airtel won't keep a stable network so i can renew 💔😭

— HARRISON ❁ (@_harrisonJNR) May 19, 2020
Someone said that when Airtel M.D wants to stream Porn , he shuts all Airtel subscribers out so that he can have all the bandwidth to himself. Maximum speed.

— DR.PENKING™ (@drpenking) May 20, 2020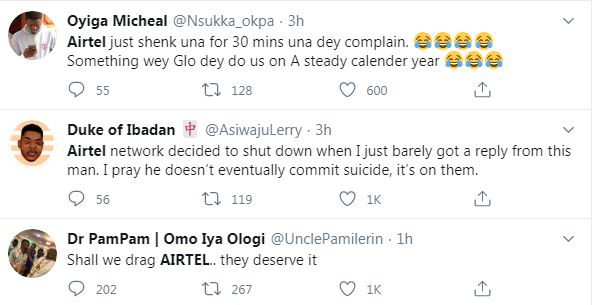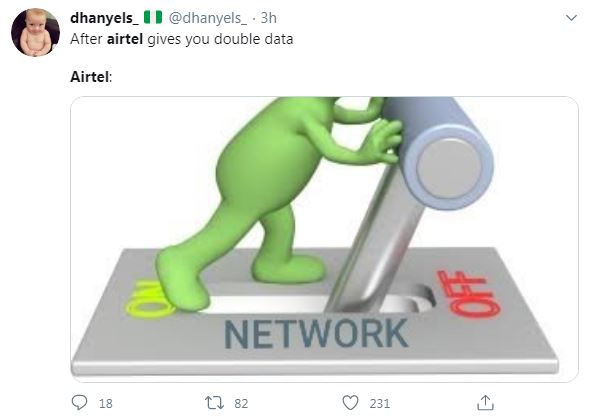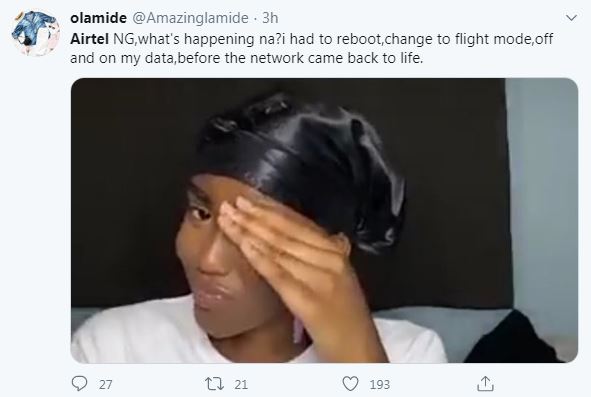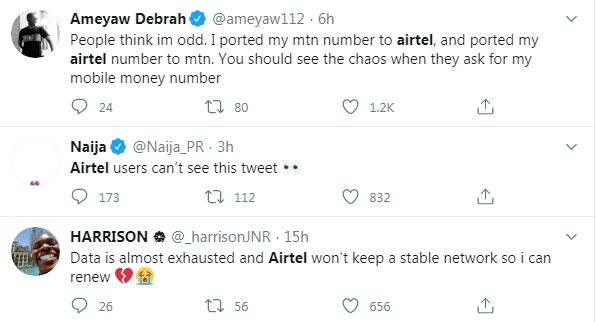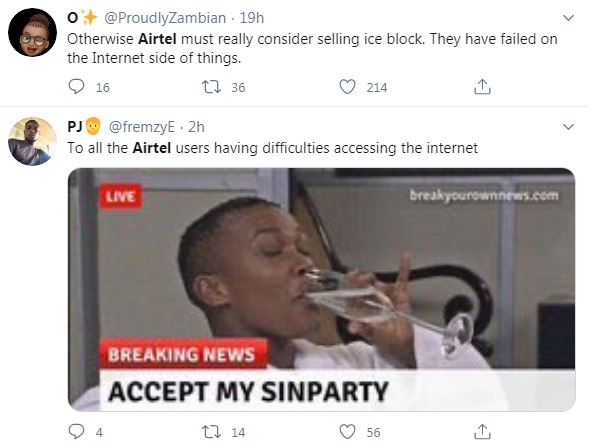 Truly frustrating to experience downtime as a voice or internet user. All providers must enable to fix their network issues and COMPENSATE!
(Visited 19 times, 1 visits today)