4 Foreign Music Inspired By Viral Challenges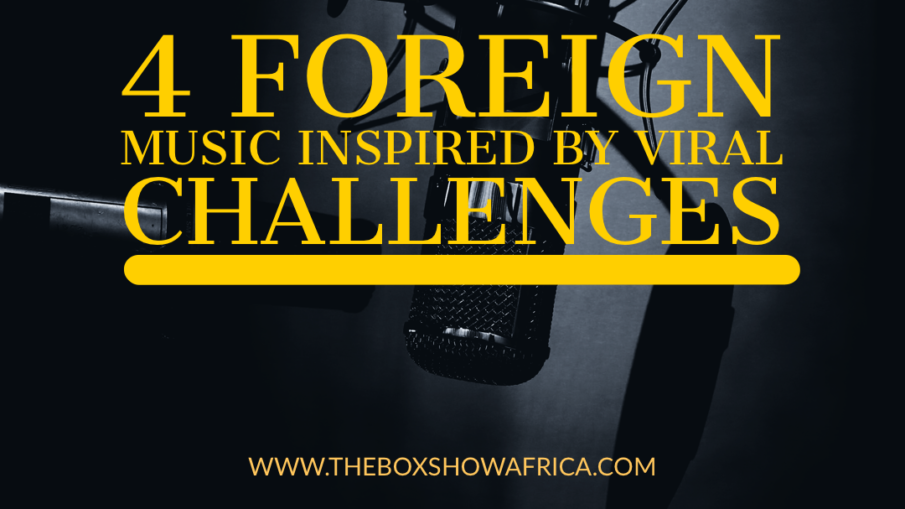 Every year there must be a new viral trend on social media that brings people together to partake various challenges: it could be music or anything else. Most times twitter and Instagram are where you find them trending the most. So, you may just have be missing out on fun stuff on Twitter right now where keeping themselves occupied by virtually participating in many viral challenges talking haghtags: #DontRushchallenge, #dontrushchallenge, #FlipTheSwitchChallenge, #SavageChallenge among others. However, we have picked our #AOTW on the show today based on these viral challenges that were recorded in at least 15-second to 1 minute videos that feature dance, creativity and humor. We are going to be hooking you with music that made the viral challenges possible.  These are songs from international acts whose music have gained the most buzz via viral challenges till March 2020.
Yeah! Almost every millennial on lockdown at home right now is doing these fun challenges including: foreign celebrities including the US senator and former 2020 presidential candidate Elizabeth Warren and actress Kate McKinnon. Also high profile Nigerian business moguls, comedy icons, entrepreneurs etc on Twitter, Instagram, Youtube, Facebook, TikTok What'sApp statuses are not exempted. Basically, the #FlipTheSwitchChallenge, #SavageChallenge #SomethingNewChallenge are more of TikTok viral while #DontRushchallenge is more of Twitter. Mehn! These challenges somehow also extended to social media platforms like Twitter and Instagram being top challenges to ever hit the internet in 2020.
Absolutely! By the way, what else is there to do this period than reading some books or hoping on social media to know what's trending. You's have mad fun if you follow the right handles.  Now, we come through with the song Something New at #4
No 4: Something new (released in 2017) (and peaked at #37 on the US Hot R&B/Hip-Hop Songs (Billboard) the same year).
It's a song by American rapper Wiz Khalifa featuring Taylor Gang label mate Ty Dolla Sign from his sixth studio album Rolling Papers 2 (2018). It was released for digital download on August 11, 2017 by Atlantic Records as the album's lead single. In August 2017, Wiz Khalifah uploaded the official music video for the song. As of February 2020, the video has over 97 million views. G-Eazy, Lil Dicky, Demi Lovato, Jamie Foxx, Juicy J, Jason Derulo, O.T. Genasis, Todd Gurley and Bob Ross also made cameo appearances in the song.
About #Somethingnewchallenge The song received renewed popularity in 2020 by going viral on video-sharing app TikTok, due to dance challenge where participants line up behind each other, with one person in front to kick off the dance, and everyone else then proceeding to push each elbow out to the side before shimmying along to the song's chorus and then clapping along to the beat.
Nigerian business mogul/philanthropist Tony Elumelu was spotted on Tik Tok,, teaming up with his family for the video challenge showing off their moves while vibing to Wiz Khalifa and Ty Dolla Sign's "Something New." I love the way his 4-year-old twin boys ended the video bursting their moves by the way. If you a TikTok user, doing the #SomethingNewChallenge is still allowed. You can tag at the boxshowafrica on social media so we can watch it. Tag @thekeenzaynab and @blackboymcm.
No 3 Don't Rush by Young T & Bugsey feat Headie One (2019) (entered the Official UK Singles Chart Top 40 on November 15th 2019 and peaked at #28)
Don't Rush' is a 2019 song by Young T and Bugsey Young T & Bugsey – a British hip hop duo from Nottingham in England. Their real names are Rashard Tucker and Doylin Julius.
In 2019 they released their song Don't Rush and featured Headie. It is the 13th track off their recently released first studio album Plead the 5th- released on 20 March 2020. They have been releasing great singles since 2016. Headie One also a British rapper and songwriter featured on the song also has mixtape The One from 2018.
About #DontRushChallenge: Don't rush challenge is one of the most interesting viral sensations on the internet. Social media was flooded with videos of people attempting showing off their makeup skills. It's my favourite. Doing the Don't Rush Challenge there is quick switch from indoor clothes to stunning outfits with magnificent facebeats. You film your before and after your makeup face and upload on your timeline with the music 'Don't Rush' playing in the background when recording your video. Many African beauties across the Africa: Nigerians. Zimbabwean, Gambian, SA, Namibians, Ugandans, Malawian, Ghana, Kenya, East Africa are jumping on this challenge. There is also the Natural Hair part as well.
#DontRushChallenge has been garnering beautiful comments appreciating the African beauty. Apparently, some folks dropped their vides before the stay at home/social distancing thing because you could see people in groups flexing. Some guys were tweeting that the challenge is for single ladies so they should put themselves out there. Some might just slide in your DM.
No 2 Savage by Megan Thee Stallion (2020) (peaked at No. 1 on the iTunes Hip-Hop/Rap chart, unseating "The Box" by Roddy Ricch)
Here is Savage at #2 by the 20 year old Megan Thee Stallion (Megan the Stallion born 1995). She is an American rapper, singer, actress and songwriter. On 6th March, 2020, she dropped "Savage" the second track off her third EP, Suga released the same day. Boom! The song went viral on video-sharing app TikTok, with people performing the "Savage" dance challenge during the song's chorus. The viral sensation hit is regarded as the song for #SocialDistancing right now. It came at the time the whole world is trying to get by and needs something to keep the soul active indoors.  More about the #savagechallenge right after this timeout!
TIP OFF
Welcome back guys! Hope the stay at home has been worth it! We always get y'all covered here on #TBS. Be sure to always tune in! We are live weekly on over 12 radio stations nationwide. We are Keenzaynab and Blackboy MCM! We've been jamming you music inspired by viral challenges on the #AOTW segment by 4 different acts!  Before the tip off segment we played you 3 songs inspired by viral challenges going on across social media since the beginning of 2020. The latest song Savage- a stuck-at-home anthem from Megan Thee Stallion which also inspires the #SavageChallenge on tiktok!
About #SavageChallenge: The "Savage" dance challenge was created by popular TikTok user Keara Wilson, whose viral clip racked up 15.7 million views and 2.4 million likes as of March 20, 2020. Wilson posted her video for five days continuously, until it started going viral, and on March 16, Megan posted her own video, as well as videos of her fans and celebrities performing the challenge. The challenge involves people completing a "quick and energetic" choreographed dance. Meghan has posted several compilations of the dance on her Instagram, including the moves of celebrities. It's exciting seeing media users flooding social media like Twitter, TikTok and Instagram with hundreds of thousands of videos putting their own creative spin on the challenge. Literally these challenges really show how fast viral things can spread.
We have the biggest song sitting at #1 right now by Drake. The song Nonstop comes with the #FlipTheSwitchChallenge
No 1 Nonstop by Drake (2018) (Commercially, it has reached number one in Canada as well as the top ten in Australia, Greece, Ireland, New Zealand, Portugal, Switzerland, and the United Kingdom; along with reaching top 5 in the United States, prior to being released as a single)
Drake is a Canadian multiple award winning act. His music has been talked about a few times on the show. So we go straight into the song Nonstop which is off his album Scorpion. Nonstop was released as the sixth single from the album on July 31, 2018. Nonstop was the most streamed song in the US during the first week of the album Scorpion release. Now, the Nonstop has gained renewed popularity this 2020, after being used in viral TikTok videos. The music video for "Nonstop" was released on July 27, 2018 exclusively on Apple Music before it was later uploaded to Drake's YouTube channel on August 3, 2018. Through Nonstop lyrics, #FlipTheSwitchChallenge came through and has got everyone across the world buzzing.
About #FlipTheSwitchChallenge
Flip the Switch Challenge is a viral sensation that started on the TikTok app and quickly spread to Twitter, Instagram, and finally Facebook. The challenge involves two people swapping clothes and roles with a each other and then switching the light off, proceeding to "go wild" once Drake raps, "Look, I just flipped the switch (flipped, flipped). When they come back on, they have reversed and are wearing the other's outfit flipping and switching roles.
Since the challenge started, people have started experimenting with the forma and it's been beautiful. Some of the popular videos posted on social media on International Women's Day on March 8th flipping on the challenge include that of the US senator and former 2020 presidential candidate Elizabeth Warren and actress Kate McKinnon, participating in the challenge. Also Jennifer Lopez and fiancé – Alex Rodriguez posted a clip from J.Lo's TikTok to Twitter with the caption "Late night tik toks @JLo #WaitForIt"
Guys! We are back with more exciting contents on #TBS this brand new month. It's our priority to keep you informed, entertained and educated this trying time all over the world. Visit our blog at www.theboxshowafrica.com as you #StayAtHome and #StaySafe!
(Visited 2 times, 1 visits today)