The Queen Of The Beat "BUSISWA"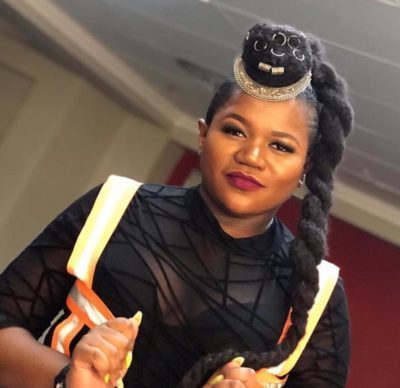 On the #AOTW today, we take things a bit closer home. We are in South Africa to spotlight queen of the beat, South African house singer-songwriter and poet-Busiswa. #UnbreakableBusiswa! Yeah! Not Busi N by the way. Our #AOTW was featured She's on Beyonce's latest album on the track "My power" alongside another SA act Moonchild Sanelly where both delivered verses in Zulu and Xhosa. Busiswa has owned the house music scene for almost a decade now. She gained mainstream attention in 2011/12. Her genre of songs include: house and gqom music. (ggom is a genre of electronic dance music that emerged in the early 2010s from Durban, South Africa)
Let's be guided guys! Don't mix up information about our #AOTW. We are not talking about Jazz and soul artist Busi N whose real name is Busisiwe Lerato Ngwenya from is Johannesburg. Our #AOTW is the house music singer and poet Busiswa Gqulu with the nickname Busi also from South Africa.
Absolutely! Busi was born Busiswa Gqulu was born on 8thNovember 1988 (31 years) in Mthatha, Eastern Cape. When she was young, her family relocated to Durban due to work by her parents. At the age of 15, Gqulu grew passion for writing poems and started doing poetry in 2004 when was in Grade 11 according to her. She started performing her poems after high school while trying to find a proper job. She got job teaching job "at an art centre to teach school children arts. Busiswa's parents actually supported to do it at the time "as they had no money to take her to university". In 2005, Busiswa advanced her poetry skills by joining the Young Basadzi Women of Poetry.
Busiswa finally caught public attention in 2011 after collaboration with DJ Zinhle on a song titled "My Name Is". She had moved to Johannesburg and got signed to an independent record label in South Africa– Kalawa Record. Later in 2011, the CEO of the label – Oskido called Busi to record "My Name Is Busiswa" which was produced by DJ Zinhle. How did she get signed to Kalawa record? Though she's out of the label now. We'll tell you all of that right after this dance non-album hit single, commercially successful and award winning 2013 song by Busiswa herself.
No 4 Lahla feat. Dj Bucks, Uhuru
That was one of the (two) songs released by Busi in 2013 Busi. In March, she released "Ngoku" on iTunes and it was accompanied by a video on YouTube. The song "Ngoku" got several airplays and was commercially successful. (At the 2014 Channel O Africa Music Video Award, the song won Most Gifted Dance category). After Ngoku in March 2013, later in November of the same year, Busiswa dropped "Lahla" featuring Dj Bucks and Uhuru.
Now, going back to how the South African Diva came to limelight. Busiswa had met a friend (male) while performing at live poetry readings. That friend then introduced her to one Sir Bubzin who was producing a song at a time and suggested that Busiswa should perform her poems on that song. Subsequently the CEO of Kalawa Record-Oskido listened to that poetry infused song titled Syaphambana and signed both Busi and Sir Bubzin to the label. Kalawa record later released the song on the label's first compilation- Kalawa Jazmee Dance in 2011. That song must be great, yeah!
Speaking on her leaving Kalawa to start her own record label- Majesty Music, she started to feel the need to protect her legacy so she "needed to prioritise ownership" in her words. According to her "Majestic Music is the label of queens." So she expects her "audience to feel inspired, to feel motivated, to feel like this could be anybody's story."
Fast forward to December 2017, was featured on several singles including Tipcee "Isichathulo" and Dj Maphorisa "Vuvushka" and "Midnight Starring" "Bazoyenza" before she dropped her debut album titled Highly Flavoured in December of the same year. The album was preceded by single, "Bazoyenza". In November 2018, Gqulu officially released Second studio album- Summer Life independently via own company Busiswa Entertainment. Previously in August she along with TNS was featured on a song " Banomoya" by Prince Kaybee . No big news concerning music release this 2020 but  she was reportedly aired her documentary_ Busiswa: An Unbreakable Story on Channel O, in January.
We due for another musical break, we gonna hook you up with #3 and #2 in a moment! We know you are already yearning for Busi's collaboration with DJ Zinhle. It's on reserve. Wait for it! Wait for it! Right now, we jam you that star studded song Lahla at #3 and right after that we hook you up with…#2.
No 3 Ngqondo
(That was a hit song. Lahla's video garnered over 2 million views on YouTube. It also won an award)
No 2    Jam ft. Da Fresh, Athi and LaSoulMates (7th track off the album Summer Life released in November 2018)
Tip Off/Bonus (My Power by Beyonce ft Tierra Whack, Beyoncé, Moonchild Sanelly, Nija, DJ Lag, Yemi Alade & Busiswa)
It's been all about Busiswa Gqulu – South African House music ang Gqom sinsger who who is passionate about her kind of music infused with poetry.  Busiswa has shared the stage at various times performing live along with SA heavy weights (like Dj Bucks live on SABC1 music show Live Amp in 2013), at the Channel O Africa Music Video Award in 2014, during Metro FM Awards in 2015.
She has made countless guest appearances and features in music across Africa and beyond with hits including Bhizer's hit, "Gobisiqolo". Busiswa has worked with Beyonce, Kwesta, D'Banj, DJ Zinhle, DJ Maphorisa, Heavy K, among others
Busiswa Controversy
In 2018, Busiswa was reportedly involved in the conflict between Nuz Queen and the iDimoni hit-single vocalist "Sdudla Somdantso*. Busiswa decided to fight to fellow friend & wrote the first Gqom Diss Track on the Gagashe the second single. Nuz Queen realesed" Yung'Busisa as a response to Busiswa's diss.
In 2019 The SA singer allegedly fell victim to more male violence. She was reported beaten by ex-boyfriend and baby daddy.
She has a son but I think her marital life single/married or motherhood is a bit controversial. Thankfully she eventually found the courage to leave the her reported abusive relationship. She one noted in an interview saying that: "The worst thing for me was having a child with an abusive partner. How do I raise my child so that he doesn't become that person? Apparently, she confirmed the alleged abuse she suffered at the hands of her baby's dad, Katlego "DJ Kaygee" Mlangeni. She's such a strong woman
Busiswa Fact
In 2019, she got featured in Beyoncé's album- The Lion King album in 2019
Busiswa's 2011 collaboration got her gigs in several countries, including Zimbabwe, Angola, and Namibia apart from clinching awards.
In her debut album Highly Flavouredshe features DJ Maphorisa, Busi N, DJ Athie, Da Fre, DJ Toxic, Nokwazi, Moozlie, Lando and Yasirah.
Busiswa promoted the single Ngoku performing on e.tvmusic show Club808, with Oskido.
Sometime in December 2019, she premiered Busiswa: An Unbreakable Story at the Africa Rising International Film Festival (ARIFF).
during an interview, she noted that: "The industry is male-dominated so the songs are always songs that are putting women in an oppressive or submissive place," "So we need a me who's going to come in and say 'wait'. I'll always make songs for women."Do you to her view that some songs do put women "in an oppressive or submissive place,"? Let's have your thought
she hosts 1st Word Sessions, a monthly poetry event. The event is usually held at the Bat Centre, Durban.
Busi's team-KwaZulu-Natal was eliminated from after a battle with team Western Cape led by IFANI in 2016
Award & Nomination
Busiswa has received numerous awards:
In 2019, at the 25th South African Music Awards, Busiswa received two nominations in the Best Female Category and Best Dance Album category for her 2nd studio album Summer Life.
Gqulu debut album was nominated at the South African Music Awards for Best Kwaito Album and for Best Female
In 2014, she was named in the Mail & Guardian 200 Young South Africans.
No 1 Ngoku
This was the very first time many people heard of Busiswa. She was more of a poet at the time. She clinched nominations at the: Channel O Africa Music Video Award including Most Gifted Dance Video and Video of the Year as well as South African Music Award for Record of the Year.
(Visited 9 times, 1 visits today)