We Discuss The Amazing Singer/Songwriter "Billie Eilish" today On The #AOTWS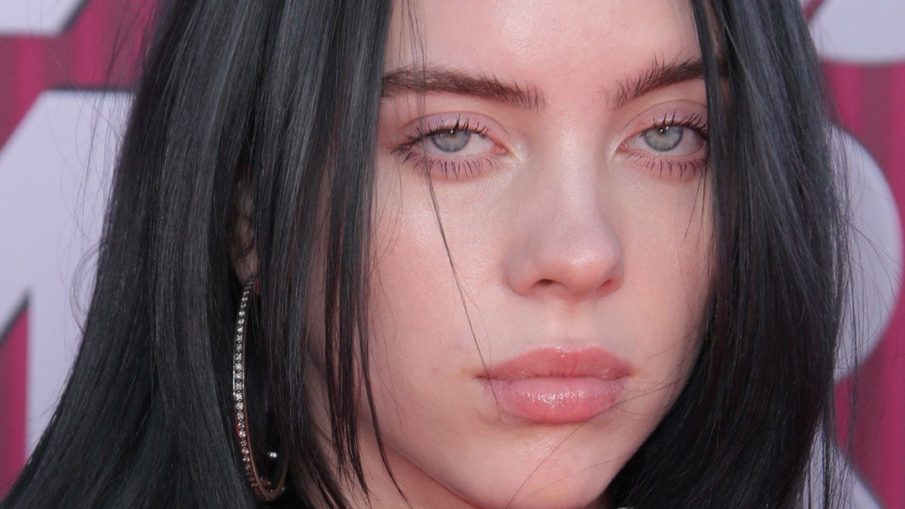 Ever listened to the music by the teenage American singer-songwriter who appears to have taken over the world of pop music in a very short time? Apparently, the talented singer, dancer and actor was in the news at the beginning of this month over some comments she made in an interview. Common guys, she only shared her thoughts on the state of rap music. Mehn! She's been criticized for all sorts of attitudes. Much of the media attention surrounding her has revolved around her style, which consists primarily of baggy, ill-fitting clothing. She's deliberate about it so nobody would be able to tell whether: 'She's slim-thick,' 'she's not slim-thick,' 'she's got a flat ass,' 'she's got a fat ass.' Nobody can say any of that because they don't know." It's about music right! So let's keep the focus right there. Who is it that I am talking about? It's BillieEilish/ˈaɪlɪʃ/! Does Billie Eilish seem ready for all forms of gbas-gbos this 2020?
Well such is expected BillieEilish is pretty weird. She's "the creepy, weird, scary girl" in her own words. But Billie is successful already. She is a vibe. Her vocals have been described like that of soprano, whispery, husky, slurring. Eilish is musically and commercially pop with her kind of genre that incorporates alternative pop, dark pop, EDM, electropop, indie pop, pop, and Emo pop. So who is Billie Eilish/ˈaɪlɪʃ/ by the way? Billie Eilish Pirate Baird O'Connell was born on December 18, 2001 (18 years), in Los Angeles, California. She was born into a family of musicians and actors.
Yes! Both her parents were popular figures in the American entertainment industry. The musical vibe in the house inspired little Billie to make a career in music while growing up.  Her mother was a song writer and her father loved making mixtapes of various artists' and played instruments. Her mother taught her and her elder brother basics of songwriting before she joined the Los Angeles Children's Chorus at age eight where and sang for three years. By the time she was 11, she was already writing and composing songs of her own. Billie Eilish/aɪlɪʃ/ finally gained media attention in 2016 when she uploaded her song Ocean Eyes" on SoundCloud in early 2016. It was originally written and produced by her brother for his own band in October 2015. Her brother recorded the song Billie's voice. The song amassed huge listening with over 10 million hits within a short period of time.  And boom! Ocean Eyes song turned out to be the breakthrough success for Billie and boosted her career. She released the music video in March 2016. Toward the end of the year, Billie released another single, 'Six Feet Under.'
No 4 "Ocean Eyes' (It was released by Interscope Records. that was the song that made Apple Music signed Eilish to A&R company Platoon, which helps package artists before they get a major label deal.)
Have you ever noticed that Eilish doesn't smile for photos? And to further buttress on that Billie dropped her debut EP, 'Don't Smile at Me,' in August 2017 (the following year). t Inspired by the success of her debut single, 'Ocean Eyes. Leading up to the release of the EP, she released two singles: 'My Boy' and 'Idontwannabeyouanymore (off the EP). The EP appeared on several international music charts including US, UK, Canada, and Australia (Her brother helped her record the single 'Bellyache" on the album). Prior to the EP release, in February 2017, Billie released the single, Bellyache-produced and co-written by her brother. The music video was out the following month.  Also in 2017, Billie recorded songs like: 'Bored', 'Watch' and 'Copycat. She had collaboration where she remixed her song 'Watch,' and renamed it 'Burn.' In October 2017, 'Apple' named her their newest 'Up Next' artist.
In order to promote herself more, she embarked on a tour in January and August 2018.
She released her record-breaking debut album When We Fall Asleep, Where Do We Go? In March 2019. It was a massive success, topping the charts all over the world. She became the first artist to be born in the 2000s to top the charts in the US.  She had a collab with American singer Khalid on the song- 'Lovely,' released in April 2018. The song was certified platinum in the US. She also released 'Bitches Broken Hearts,' and 'You Should See me in a Crown.' In October 2018, Eilish released the single "When the Party's Over". She released the single "Come Out and Play", written for a holiday-themed Apple commercial.
No 3 When the Party's Over" (off her debut studio album When We All Fall Asleep, Where Do We Go? released as the second single on October 17, 2018written and produced by Finneas O'Connell. It was nominated  at the 2018                Norway GAFFA Awards – Best Foreign Song and certified Gold at the 2019Clio Awards- Music Videos                category,  nominated at the 2019 MTV Video Music Awards -Best Visual Effects category        and UK Music Video Awards   Best Pop Video – International category)
2 No Time to Die (released as a single February 13, 2020)
On January 14, 2020, Eilish was announced as performer of the title track for the twenty-fifth installment in the James Bond film franchise, No Time to Die, written and produced with her brother, Finneas O'Connell. The song was released as a single February 13, 2020.
Tip Off
Xanny (Lots of pop stars struggle with substance abuse. Eilish is determined to walk a different path. The young pop star actually abstains from doing drugs or smoking. It's a topic she explores in the song "Xanny"—a reference to Xanax, a drug used to treat anxiety that is commonly used recreationally- such  a noble message). It's been all about that groundbreaking young artist known for a rather unique fashion style that incorporates bold colors and baggy clothing.
Eilish's debut studio album, When We All Fall Asleep, Where Do We Go? was released in (2019), debuted atop the Billboard 200 and became the best-performing album of 2019 in the US.[3] It also reached number one in the UK. The album contains six Billboard Hot 100 top 40 singles: "When the Party's Over", "Bury a Friend", "Wish You Were Gay", "Xanny", "Everything I Wanted",[a] and "Bad Guy", the last of which became her first number-one single in the US.
Billie Facts
Billie Eilish wrote her first "real" song at age 11 for her mother's songwriting class. The song is about the zombie apocalypse, inspired by the television series The Walking Dead
Eilish had gone on some acting auditions, which she disliked. She also made several short films
Billie dresses out of her comfort zone to feel like she grabs the attention of everyone around her. She tries to be "really different from a lot of people" and dresses opposite to what others wear.
Chanel was one of the brands that helped shape her image at the earlier stage of her career. In 2018, Eilish signed a modeling contract with Next Models. She was placed on the 2018 Forbes 30 Under 30 list in 2018. In 2019, she became the youngest artist to top 1 billion streams on Spotify
Speaking out about Mental in May 2019Health in a campaign in May 2019, entitled "Seize the Awkward," as part of Mental Health Awareness Month, Eilish disclosed she has experienced depression.
Also in an ad campaign for Calvin Klein, Eilish revealed a darker reason for her bold outfits. She said that baggy clothing helped shield her from body shaming and being sexualized as a young woman in the music industry. Eilish once explained to Harper's Bazaar, "I just like dressing out of my comfort zone…That's my casual."
Who else has that very strong sibling relationship with their older brother or sister?  Billie and Finneas O'Connell are great on that one. "We like the same stuff, and if we don't like the same stuff, we can tell each other our opinions." She says.
On November 20, 2019, Eilish was nominated for six Grammy Awards including Record of the Year and Song of the Year for "Bad Guy" as well as Album of the Year and Best New Artist. At the age of 17, she became the youngest artist to be nominated in all four General Field categories. In the same month, Eilish was crowned 2019 Billboard Woman of the Year.  At the 62nd Grammy Awards, she became the youngest person and first woman to win the four main Grammy categories, Best New Artist, Record of the Year, Song of the Year, and Album of the Year in the same year.
Awards and nominations
Billie Eilish has received numerous awards including Guinness World Records 2020Youngest female artist at No.1 on UK albums chart
5 Grammy Awards,
2 American Music Awards,
2 MTV Europe Music Awards,
3 MTV Video Music Awards
1 NRJ Music Award
Billie's Controversy
Billie is deliberate about everything and doesn't pay attention to the criticism just as she does not like to smile in photographs because it "makes me feel weak and powerless and small…" she says. Did she actually pay attention (on 5th February) when folks came real hot on her? When she got schooled over controversial "Rappers Are Liars" claim?
Billie Eilish made her Vogue debut on the cover of its upcoming March issue and the artist shared her thoughts on the current state of rap music/Hip Hop. She says: "There's a difference between lying in a song and writing a story. There are tons of songs where people are just lying. There's a lot of that in rap right now, from people that I know who rap."
And Twitter went agog and hard on Billie Eilish. Some were like she may have borrowed some of her aesthetic from hip hop culture, but that doesn't mean that she has the range to speak on rap music. Was she kind of making it seem like Rappers are professional liar? What do you think about Billie Eilish comments? It's still very hot as far as February 2020 is concerned. Drop it on the webite…
No 1 Bad Guy (remix) with justin Bieber (She has been a belieber right from childhood before the two later teamed up on a remix of her hit single "Bad Guy.")
(original is off her debut album – that was was Smash Hit. It's Eilish's biggest hit to date. It peaked at #2 on the US and UK chart. "Bad Guy" in 2019 won many awards including: Best SingleASCAP Pop Music Awards, Best Pop Song  at the Melon Music Awards, Global Hit  at the MTV Millennial Awards, Best New International Artist Video at the MTV Video Music Awards Japan, Winning Video at the MTV Video Play Awards, Video of the Year at the NRJ Music Awards, Song of 2019 People's Choice Awardsm Record Production/Single or Track at the TEC Awards. Also, Record of the Year Song of the Year at the Grammy Awards 2020 with many nominations.              
(Visited 18 times, 1 visits today)