Miley Cyrus Poses Braless With Cody Simpson After Gifting Him Vintage Birthday Present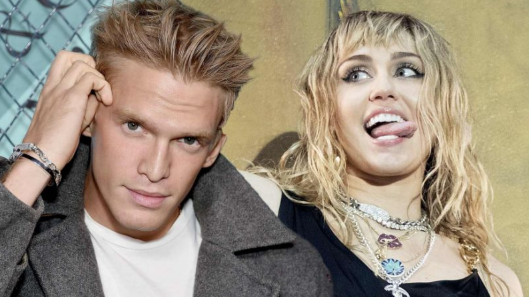 Cody Simpson seemed pretty happy with his birthday present AND his girlfriend after Miley Cyrus gave him his vintage personalized gift then posed alongside him without a bra. The Australian singer is turning 23 on Saturday, but Miley can't be with her new beau so she presented her thoughtful present to him two days early. Posting her gift on her Instagram story Thursday, Miley Cyrus revealed she got Cody Simpson a personalized doctor's bag reading, "Prince Neptune," a nod to his book title.
The "Mother's Daughter" singer posed with her hunky boyfriend who snapped a selfie with his new bag ahead of his trip to Italy. Wearing ripped jeans, a black beanie that covers up her mullet, and a revealing tank top, Miley Cyrus captioned the picture, "Won't be w the Prince on his bday so had to give him his present early!" The 27-year-old singer was revealing much more than just what she got Cody for his birthday. Striking a pose with her man, Miley Cyrus flaunted her flat stomach and flashed her braless chest.
Miley Wins At Gift Giving!
She also showed off several other gifts she's given to Cody Simpson in the recent months. Placing her singing beau's doctor's bag on the bed with the Christmas gifts she got him surrounding it, Miley Cyrus showed off a pocket watch, chain, and vintage cowboy hat. "My dude lookin like a legit bad ass poet pirate leavin for Milan," she wrote. "Pocket watch and chain (from xmas) and B-day doctors bag (1/11 but will be out of town)," the singer continued. "ALL from 1800s and inscribed with @princeneptunepoet trident."
Miley & Cody's Relationship Timeline:
Miley Cyrus and Cody Simpson have been linked since October following her breakup with Kaitlynn Carter. Since then, Cody has integrated with Miley's family and even spent Christmas Day with them, days after she finalized her divorce with Liam Hemsworth. The "Hunger Games" star filed for divorce in August less than one year after they said, "I do." While Miley Cyrus has moved on, Liam Hemsworth isn't sitting back idle. He was spotted holding hands with fellow Australian star Maddison Brown and if their relationship doesn't work out, he can always hit up Lindsay Lohan.
(Visited 17 times, 1 visits today)