HOTTEST NIGERIAN MUSIC PRODUCERS OF 2019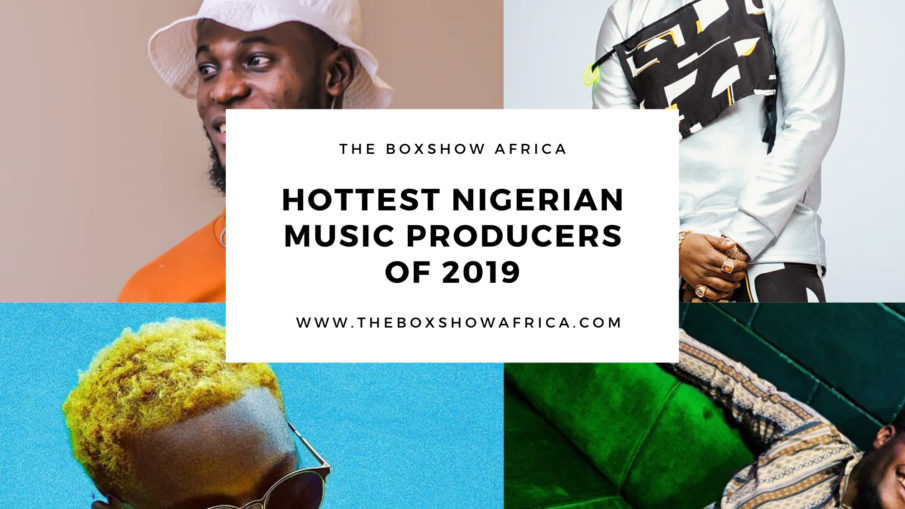 It's never a boring moment for the music industry across the world and this has helped many artists gain more recognition. Last year, some Nigerian acts saw a steady rise in their music getting all the attention on airwaves but we tend to forget that there are brains behind their sound. These guys need to be celebrated more. So, we break away from the regular artists feature on #AOTW today and feature some baddest Nigerian music producers of 2019. I mean lot of incredibly new sounds came through in 2019. These guys have hugely contributed if not crafted many of those sounds we still cannot do without this 2020.
We see a lot of their works still making mad waves and even topping the charts this brand new year. Earlier in June 2019, pulse.ng made a list of "Top 5 hottest Nigerian music producers of 2019". They were Yung Willis, Ozedikus, Cracker Mallom, Kel P and Rexxie. There were also honourable mentions which included: Drumphase, Spax, Charlie Xtreme, Pheelz, Black Intelligence and GMK. In December 2019 (that was 6 months after), the same website also released an update with many more names added to the list.
Yes! Names added were: Sarz, Killertunes, DJ YK Beats, Shizzi, Northboi Oracle and Jaysynths. These guys joined some of those top 5 names previously released in June making them top 10 hottest Nigerian music producers. Interestingly 3 from the initial 5 in June made it to the list again: Kel P (1), Rexxie (3), Cracker Mallo (6) while only Ozedikus appears in the honourable mention. Yung Willis neither made a return on the new 10 nor got a mention on the list of newly honoured producers who were: Tuzi, Spax, and TeckZilla. Basically, more7: Killertunes (2), Pheelz, (4), Sarz (5), DJ YK Beats (7), Shizzi (8), Northboi Oracle (9) and Jaysynths (10) have been added to the list of hottest Nigerian producers between 6 and December 2019. Howeverm Killertunes, Speroach, Fresh VDM
Yeah!  The year in review then was "between December 1, 2018, and November 31, 2019. For the top music producers of 2019" In the year under review,  Killertunes, Pheelz, Rexxie and Kel P are those producers who have made our #AOTW today on #TBS Thy are "producers, championing the cause" (pulse.ng)
4             Killertunes  Alhaji Riddim feat. DJ Tunez (released 6th December)
What's the thing about this song? Is that crazy as people claim? Anyway give it up for Killertunes for getting some level of attention in 2019. Though he started the year slightly slower but he increased the pace as the year has progressed. The Nigerian ace music producer Killertunes has been consistent in his mixing skill. He had the most of 2018. He won producer of the year. He's one of the most sought after producers in Africa after making hits upon hits beats for top notch, up and hot coming musicians (Wizkid, Kiss Daniel, Phyno, Eazi, Skales, DJ Spinal, Major Later, DJ Cuppy just to mention a few). Some of the successful songs to his credit include, 'Woske' for Olamide, 'The Beginning' and 'Don't Call Me Back' by Joeboy, 'Doyin' and 'Tony Montana' by Mr. Eazi, 'Ghetto Love' for Wizkid, and 'Monalisa' for Lyta.
He released a beat tape titled Gbedu and Things. On it is the madness titled, 'Alhaji Riddim.' He's got some good mention on Naira Marley's upcoming 6-track EP, Lord of Lamba.
3             Pheelz                 'Gobe,' featuring Olamide and Naira Marley (his song).
Sometimes we take a break to unplug and recharge our craft and creativity, may be not necessary because we are no more inspired with vibes. Who knew if that what worked for Phillip Kayode Moses better known as Pheelz mr Producer who was on hiatus between March 2017 and August 2018. He came back debuting his new 'Riddimacoolahyor!' tag – in the final quarter of 2018 with the YBNL Mafia Family album talking 'Oke Suna' and 'Juju, Guns and Roses' How about songs songs like 'Scatter' for Fireboy,'Billionaire' for Teni, 'Owo Mi Da' for Tiwa Savage and 'Gobe,' his song featuring Olamide and Naira Marley.
Spells in 2019 produced Tiwa Savage's 49-99' and 'Nowo' for Teni. He wrapped up the year with Fireboy's debut album, Laughter, Tears and Goosebumps.
2             Rexxie                                Naira Marley's 'Am I A Yahoo Boy?' featuring Zlatan, –
The Anambra state born but Lagos and Abuja raised music producer Chisom Ezeh, popularly called Rexxie who recorded the monster hit song, Able God (for Chinko Ekun, Lil Kesh and Zlatan Ibile,)- the biggest turning point has been on the scene for a while now. He started popping since 2018 when his biggest songs blew in the final quarter of 2018, and then spilled onto 2019 for significant success.
Earlier in July 2019, he disclosed in an interview with thisdaylive.com that he's "the Originator of Zanku Sound". He said his meeting with Zlatan in the studio was like a new sound meeting the right artiste especially for the title of the song Jogo featuring Lil Kesh and Naira Marley happened to be a turning point in his music career. After Jogo, he did three hit songs such as Jakpa for Naira Marley, Again O for Lil Kesh and Illuminati by Zlatan, featuring Naira Marley. exxie's had great 2019 with his major hit in 2019 'Am I A Yahoo Boy?' featuring Zlatan, – Naira Marley's controversial song. He's worked with Zlatan and Naira Marley among others produced 'Zanku (Legwork) and Jogor' featuring Lil Kesh both for Zlatan 'Japa' for Naira Marley in 2018,
Tip Off Bonus: (Cracker Mallo)
Producer Kel-P bore Peter Kelvin who started in 2016 after meeting the producer Sarz -an established producer. Sarz according to him helped him in creating a song that he was working on at the time and even gave him pointers on his producer tag "It's Kel-P vibes." He said " I stayed under the guidance of Sarz for around eight months until mid 2017, that's when I really found my feet and started working with other artists, establishing my sound." He disclosed a collaboration coming up with Future as he is now definitely focused on reggae.
Kel P has the producer has managed to work with both Wizkid and Burna Boy. He produced 10 songs on African Giant—including "Dangote," "On the Low," "Gbona," 'Killin Dem,' 'Dangote,' 'Another Story,' 'Pull Up' among other hits (okayafrica.com) . According to reports, Kel P helped in crafting Burna boy's Grammy-nominated album African Giant. His collaboration with Wizkid on both "Ease Your Mind" and "Mine" from the recent SoundMan Vol. 1 EP, makes him tapped into wider pallets such as jazz and reggae. Kel P who produced the majority of African Giant, a Grammy-nominated album has also has also produced 'Boda Sodiq' for Niniola, 'Put In Pressure' for Reekado Banks, 'Cover Me,' 'Mine' and 'Ease Your Mind' for Wizkid, 'Sili-Kon' for Timaya, 'Ginika,' for Dice Ailes, 'Red Eye' for Victor AD, and 'Eleganza' for Solidstar.
1             Kel P ("It's Kel-P vibes")         "Ease Your Mind" and "Mine" ( collab with wizkid)
These guys are sure good in their mixing skills. They have wowed fans and lovers of good music and I feel like there should be more yearnings to have more of their voices to be heard in whatever sound they may have planned to mix for fans this 2020. Let's get producers to make more video appearances in the sounds they produce more in 2020.  I feel like it will be cool to be able to put faces to the names also. Let's get on it already! Go over to our social media and let's start promoting it with the hashtag #MoreVideoAppearance #NigerianMusicProducer
(Visited 17 times, 1 visits today)