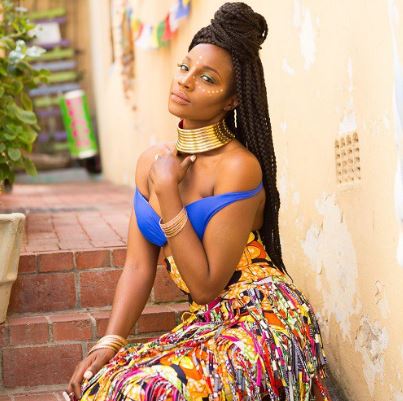 Seyi Shay goes by the name of Deborah Oluwaseyi Joshua and she is a Nigerian based English singer-songwriter, recording artist, performer, and record producer. Shay was born and raised in Tottenham, London, England, to Nigerian parents. Born 21 December 1985, her mother was from Northern Nigeria and her father is a native of Ife.
Seyi was brought up in London by Nigerian parents. Seyi was raised in a very religious setting by her single mother. Started visiting Nigeria when she was two and she then she attended Command High School in Maryland, Lagos for her primary education. She returned to London to complete her undergraduate studies – studied music at a local UK college, and went on to study Business Management at the University of East London. Her interest in music was influenced by members of her household. Her late mother was a chorister and her sister used to compose songs for TV. Moreover, her brother was a radio and club disc jockey. Shay started performing at the age of 6, and joined her secondary school choir.
She performed for the London Community Gospel Choir during their world tour which spread across 13 cities in Japan and won her critical acclaim. According to an interview with a Thisday reporter, Seyi Shay revealed that at first, her mother wasn't in full support of her choice to pursue music as a full time career. She wanted Seyi to finish her studies and become a doctor or a lawyer but eventually, before her death, she came to terms with Seyi's choice and supported her asking her to put God first in her career.
Seyi is no novice to the music business. She wrote and produced three songs for the soundtrack to Konami's video game Crime Life: Gang Wars (2005). She also wrote "You Will See", a song that was included on Melanie C's third studio album Beautiful Intentions (2005). Shay wrote "White Lies", a song from Chip's Transition album. In 2008, she became the lead singer for the now defunct Pop girl group, 'From Above'. The group got signed to Sony/Columbia and was managed by Mathew Knowles' Music World Entertainment Company.
Her music has been dubbed a mix of Afro-pop and R&B. Her songs, "Loving Your Way" and "No Le Le" were instant hits when they dropped. Shay met one on one with Sound Sultan when he came to London in 2011. The Naija Ninja artiste convinced her to relocate to Nigeria and pursue her musical career in her motherland after he heard some of her songs. While working with Sound Sultan in the UK, Shay met with Cecil Hammond of Flytime Promotions who promptly signed her to his record label called Flytime Music. Flytime Music helped launch her solo career in Nigeria. In 2013, Shay left the record label.
Seyi or Shay is the debut studio album by Nigerian singer-songwriter Seyi Shay. Formerly scheduled for release on November 13, 2015, the album was later shifted to November 16, 2015. Seyi or Shay was preceded by five singles and features vocals from Patoranking, Wizkid, Shaydee, Iyanya, Flavour and Banky W. The concept behind Seyi or Shay expresses both sides of Seyi Shay as a person and a music artist. Released through Island Records and Stargurl Limited, the album generally features vocals from Femi Kuti, Wizkid, Iyanya, Banky W, Olamide, Patoranking, D'Banj, Sound Sultan, Timaya and Cynthia Morgan, with music productions from Legendury Beatz, Pheelz, Dokta Frabz, Tee-Y Mix, Harmony Samuels and Del B.
Currently, Seyi Shay has worked with a number of producers in Nigeria, including Jay Sleek, Tee Y Mix, Del B, and Cobhams Asuquo, among others. She has also performed at various A-list events and concerts. One of her most noteworthy moments on stage was when she performed the hit song, "Bad" alongside international rap sensation, Wale at the Johnnie Walker Step Up to VIP Lifestyle Launch event.
Shay performed at the 2013 COSON song awards. In July 2013, she performed at one of Big Brother Africa 8's live eviction shows. On 20 July 2013, she performed in Asaba for the 2013 edition of Star Music Trek. On 27 September 2013, Shay graced the stage at the Sisters with Soul concert, which was headlined by Mary J. Blige. On 15 February 2014, Shay performed at Darey's Love Like A Movie Concert alongside Kelly Rowland, D'banj, Tiwa Savage, Mo' Eazy, Zaina, Timi Dakolo, Waje, Muna, JJC and Eva Alordiah, among others.
In November 2013, she signed an endorsement deal with telecommunications service provider Etisalat to become their brand ambassador.
TOP 4 SONGS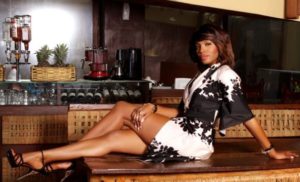 As we did with her TOP4SONGS, we shall also take a look at Shays TOP4 controversial moments so far that got fans talking.
Seyi Shay's outfit to meet former President Goodluck Jonathan. Shay wore a short purple dress to one of the many events former President Goodluck Jonathan organized as he sought re-election. Her choice of outfit received generally negative comments with most saying her intention was to seduce the president.
Seyi Shay grabbing Wizkid's manhood in the video of her single 'Crazy'. The singer seemed to have gone all out in the video featuring Wizkid. The music video directed by Meji Alabi features sexually explicit scene.
The brief scene has Seyi Shay grabbing Wizkid's crotch. The scene happens in the 2:15 mark of the video. There were rumours that both acts are 'more than just friends'.
There is also another scene where Wizkid is drumming on Seyi Shay's backside as the female singer was grinding on him.
Well, there seems to be a lot of chemistry between both acts.
Seyi's Instagram competition. Called #MyJangilovaCompetition and involved fans recording a 15 second video of their favourite part of the song and uploading it to Instagram.
That was in a bid to raise awareness for her then latest single and video 'Jangilova', she created a competition on May 6, 2015. The three most liked videos was to win prizes. The prizes were a Blackberry Passport, N50, 000 and a night out with Seyi Shay respectively.
The competition ended, but Shay pointed out a video from an Instagram user called debbie_veren that had over 18, 000 likes. Seyi Shay expressed her doubt concerning the video's high amount of likes.
"It has also come to our attention that this entry has over 18,000likes. As much as I appreciate her sweet voice and the love to enter the competition, me wey get d page never even see up to 5000likes for any other post…"
Seyi Shay's statement concerning the video raised controversy with many saying that they saw nothing wrong with the high number of likes even if they were bought. Some others felt that the likes on the video were fake and deserved to be disqualified.
Nollywood actor Mofe Duncan jumped into the fray by disagreeing with Seyi Shay and rooting for debbie_veren. "I rooted for her @iamseyishay ,@debbie_veren deserves to win. She did what any fan would do, she answered ur call and now she's getting blamed for picking up. #JustSaying tho who am I to question!? But she's a friend and she interned at rhythm fm Abuja and thus knows people. PS: even if it were true? She need not be called out like that" he wrote on Instagram.
Seyi Shay was on live TV and goofed over the meaning of EP and got us asking what Nigerian celebrities need to do before going for a live broadcast.
In an interview on Hip TV's Trending hosted by Nancy Isime, she was asked what an EP means.
Seyi Shay proudly said: "Of course an EP could stand for electric package.
(Visited 22 times, 1 visits today)