Fans Lash Insults At Pique During Spain's Training Ahead Of Russia 2018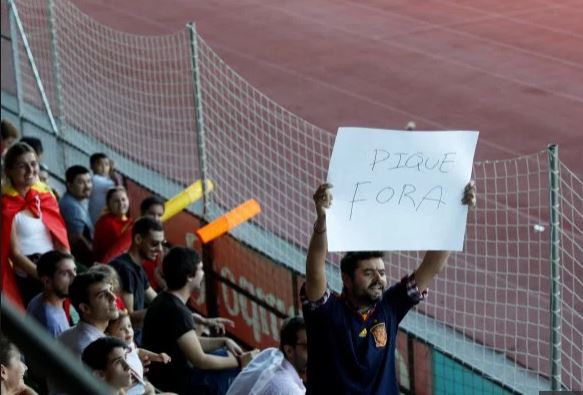 The Barcelona defender has admitted he is prepared to quit the Spanish team prior to the 2018 World Cup if requested to do so by the Spanish FA. Pique gave a tearful interview following Barcelona's 3-0 victory over Las Palmas on Sunday in which he described playing at an empty Nou Camp as the worst experience of his professional career. "I go to play with the (Spanish) national team because I believe in democracy and there are a lot of people in Spain who don't agree with what has happened today," Pique told Spanish TV.
"The person who goes with the national team, isn't the most patriotic, you have to go and perform to your maximum. It's not a competition of patriotism; it's about going and giving all you can to win – that's how I understand it." "If anyone in the federation believes I should not be there, I will step aside." Gerard Pique says he'll stop playing international football if his Spain colleagues want him to
Pique has been an outspoken defender of the wealthy north-eastern Spanish region's right to self-determination and cast his vote in the independence referendum on Sunday morning.
"I am very proud of Catalonia and all of its people," an emotional Pique said. "Despite how much they are incited, and despite how much they (the Spanish authorities and security forces) want them to fall into the trap, they have demonstrated peacefully and sung loud and clear."
Source: Sky Sport
(Visited 5 times, 1 visits today)