You Must Notify Us Before Going On Strike, NANS Warn University Lecturers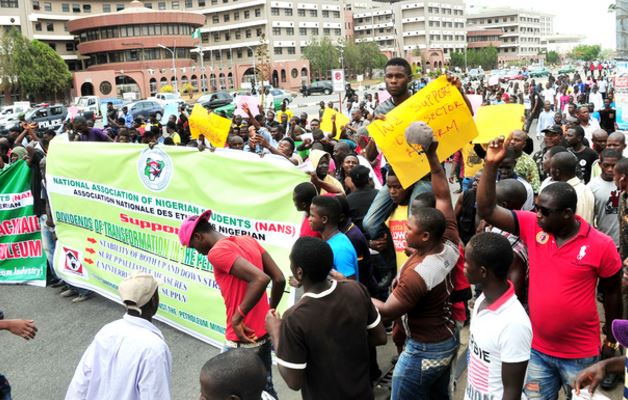 The National Association of Nigerian Students, NANS, has warned university teachers against embarking on industrial action without prior notice. The students' body also tasked the federal government to channel the money it claimed to have recovered from those who looted the country's treasury to the education sector, saying such measures would reposition the deteriorating state of the nation's education.
NANS President, Chinonso Obasi, in a statement, yesterday in Abuja, insisted that lecturers must consult NANS before embarking on any strike in the future. University students during one of NANS protests. Obasi said the decision was a fallout of the association's just concluded emergency Senate meeting held at the Kwara State College of Education, Ilorin. NANS, according to the statement, demanded that the Federal Government should channel the money recovered by anti-corruption agencies to the education sector in Nigeria to address some of the burning issues. "The meeting which was summoned to deliberate on the ongoing strike declared by ASUU ended successfully with an overwhelming attendance of student union Presidents and NANS stakeholders throughout the country.
"NANS mandated its leaders to reach out to the Federal Government to find a lasting solution to the enormous challenges facing Nigerian students," the statement said. It added:" As critical stakeholders in the education sector, it is imperative that ASUU consults NANS. Anytime ASUU wants to embark on strike, it is proper for them to consult student leaders led by NANS. ASUU should also apply other means of negotiation so that the strike will not have a direct negative impact on the students.
"ASUU has been striking to use students as their bargaining power. The interest of students must be considered and prioritized at all times. Part of the resolution was that an appeal should be made to the Federal Government to channel the loots recovered from anti-graft agencies to the education sector." It further added:" The Senate also passed a vote of confidence on its President for his style of leadership that has regained the lost voice of Nigerian students both at home and in the diaspora "It was also resolved that the National President of NANS should continue to constructively engage with the stakeholders comprising ASUU and the Federal Government to resolve the strike and find a lasting solution to the enormous challenges facing Nigerian students." "The meeting also called on the Federal Government to prioritise the education sector in Nigeria and push for the recommendation by the United Nations Educational, Scientific and Cultural Organisation that 26 per cent of the nation's annual budget should be for funding the education sector and secure a better and sustainable educational standard. "NANS however refused to shut down the country on account of government's inability to resolve the ongoing strike, within 21 days, citing the prevailing economic downturn in the country."
NAN
(Visited 6 times, 1 visits today)