Touching: 8-Year-Old Dante Was Beaten To Death While Trying To Protect his Sister From A Child Molester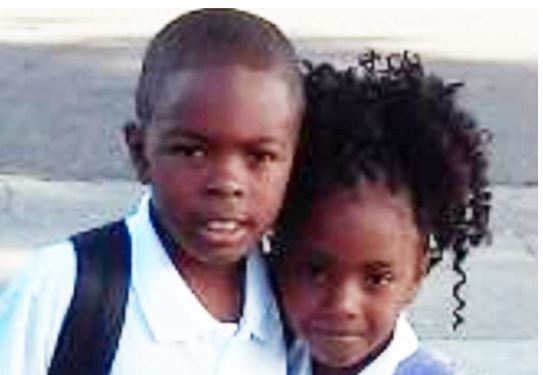 An eight-year-old California boy was allegedly beaten to death with a hammer by his mother's ex-boyfriend while trying to protect his seven-year-old sister from molestation, reports said Sunday. The incident took place Sept. 1, when Dante Daniels was attacked by his mother's ex, Deandre Chaney Jr., 23, with a hammer in South Sacramento, California. Daniels never made to his second day of third grade at Oakridge Elementary in South Sacramento.
Chaney Jr. allegedly murdered the eight-year-old Daniels when he was committing a lewd act on Dante's seven-year-old sister Danae, Fox News reported, citing a criminal complaint. Daniels succumbed to his injuries and died six days later. "Trying to save his sister from this child molester, and that's why he was beaten the worst," said Daniels' grandmother Monique Brown. Chaney Jr., a reported violent two-strike felon and sex offender, was also said to have turned the hammer and a knife on Danae, as well as the children's mother, 28-year-old Elizabeth Salone, investigators said.
Daniels' grandmother told Fox News the seven-year-old girl was fine, but she may not be able to see out of her left eye again. Brown hailed her grandson a hero. She said the boy was beaten with a hammer "down to his spine." "They couldn't save his brain," she added. Brown said Dante continued to help others even after his death. "Dante gave his heart to a 4-year-old In Southern California, so 4-year-old lives because of [him]," Brown said, according to NBC News affiliate WSFA. The criminal complaint also alleged Chaney Jr. used lighter fluid. Chaney Jr. faces murder and attempted murder charges and another charge of lewd acts with a child under the age of 14 years.A GoFundMe has been created after Daniels' death and the family as they recover. As of Monday, Sept. 25, the page had raised $16,746 of its $20,000 target.
Another similar incident was reported in the United States earlier when a six-year-old boy in New Jersey was killed trying to save his sister's life from an attacker who broke into their home in September 2015. Dominick Andujar, 6, heard his sister's screams and when he went to help her, the attacker then turned towards the boy and Andujar was killed in the bid to protect her sister.  Both the children's throats were slashed, and only the girl survived and escaped into the streets to ask for help. Their attacker, Osvaldo Rivera, was given a jail sentence for 110 years, according to a Mirror.co.uk report.
The family was given a diary that Dominick used to write in, after his death where he had written, "I am a superhero. I save people."
In another incident in October 2015, an 11-year-old boy died while pushing his sister away from the path of a speedy vehicle.  La'Darious Wylie, 11, was waiting for the bus to school with his sister Sha'Vonta, 7, when an out-of-control car veered towards them on Oct. 27, according to the Independent. Wylie saved his sister but he was hit by the car himself and died a day later succumbing to his injuries in a hospital in Charlotte.
Michelle Johnson, 57, the driver of the car was arrested two days after the incident took place and was charged with felony hit-and-run resulting in death.
Source: Mirror.co.uk
(Visited 101 times, 1 visits today)