S.A Residents Mourn 5-Year-Old Boy Beaten To Death By His Father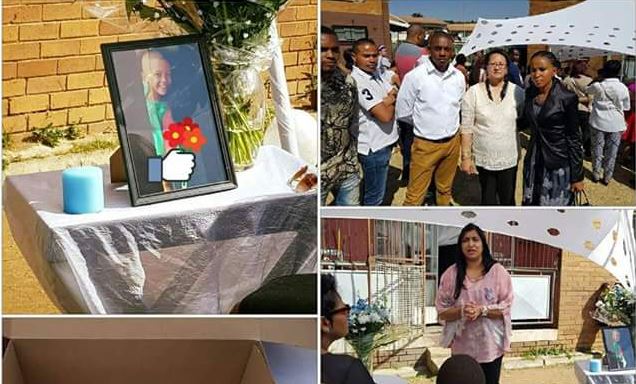 Family and members of the Bellavista community' south of Johannesburg' on Wednesday held a memorial service for five-year-old boy Caleb Ouman who was beaten to death by his father. Ouman died after being severely beaten to death by his 35-year-old father' Seisax Boesak' last Thursday. ER24 spokesperson Annine Siddall said that a paramedic went to South Rand Hospital in her personal capacity after she heard that the boy had been transported there' but the boy had already been declared dead by the hospital.
"The paramedic said that the boy had been dead for two or three hours by the time she got to the hospital at around 7pm. She [the paramedic] said that the boy had severe injuries and his whole body was covered in bruises." she said. Siddall said that the paramedic suspected that the boy died of internal bleeding. Boesak abandoned his bail application on Monday when he appeared in the Johannesburg Magistrate's Court. The memorial service was held under a small stretch tent in front of the flat where the boy lived with his aunt' Vivian Boesak. A photograph of the five-year-old lay next to a bouquet of white and blue flowers on a draped small table.
Vivian lived with Ouman until his father took him to "bond" with him after he was released from prison in February for assaulting him. Boesak was released after assault charges were dropped against him. He had been arrested in December. Johannesburg's member of the mayoral committee for social development' Dr Mpho Phalatse' said the boy's death was "tragic and disturbing ". "We knew about the abuse. It was reported and there was an arrest made. But it was irresponsible for the father to be released. He was released before he could get the help he needed. "This boy was robbed of an opportunity to express himself and be a gift to us'" Phalatse said.
She said there needed to be an investigation into why Boesak was released from prison after he was arrested for assaulting Ouman on a previous occasion. "We will drill down to what happened and find out who dropped the ball'" said Phalatse. "I called his name; he looked up at me and sighed his last breath" said Rashieda Landis' a ward councillor at Chrisville' South of Johannesburg. "He [the father] was very casual. So casual — after he kicked that baby and smashed him against the wall. He had cigarette burns all over his body'" Landis said. "I was with him when he died. I saw his face and I immediately knew he had been beaten. Caleb did not deserve what he went through. I fought with Seisax. I put in rehab' but his strike killed our Caleb ".
"This guy was arrested six months ago for beating his child. The father's sister and I laid a case against him. Three months later his sister had dropped the charges against him. His sister went to [Westgate] Court and the judge actually allowed it" Ouman's mother Merchia' who lives in Welkom' was not at the memorial service due to "financial constraints ". Anastacia Jacobs' the chairperson of local drug action committee in Booysens' said the boy would be buried in Welkom on Saturday. She said the community was shocked to hear that charges against Boesak had previously been dropped. "We as the community are asking ourselves why the charges were dropped in the first place." Boesak is due back in court on October 4. Landis said that the boy's mother lived in Bloemfontein and had given custody of the child to his paternal grandmother' but that the child ultimately ended up in the care of his father and the father's girlfriend. According to Landis' the boy's father kept the abuse from his girlfriend. "He wouldn't allow his girlfriend to feed and clothe the child. He did everything himself. It was only last night [Thursday] when the girlfriend saw the boy's beaten face that she called the neighbours. By the time the neighbours called me…" her voice broke in tears.
"You must see his little body broken. The neighbours called me saying he was having a fit. In my many years of doing community work' this is the first time I broke down. I helped him the first time' but I couldn't help him this time. I am shattered' angry and I feel let down by justice system. It is murder." Lundis said that she would need to get counselling herself. "The first time the baby was beaten I grabbed him and ran with him to the police. Afterwards he said to me: 'Auntie' when everything is over can you come fetch me.' I never got to see him again before last night."
NAN
(Visited 56 times, 1 visits today)