We spotlight Moonchild Sanelly's Top 4 Musical Features on our #AOTW segment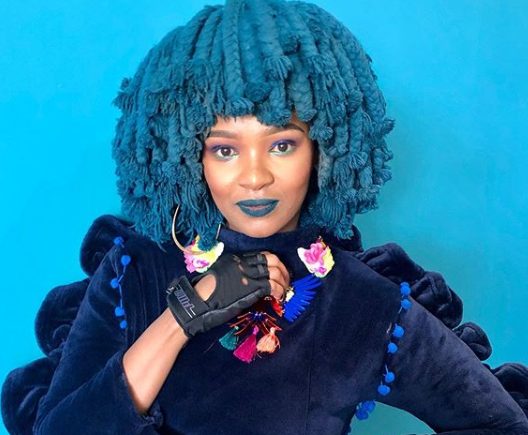 Sanelisiwe Twisha (born 20 November 1987), known professionally as Moonchild Sanelly is a South African musician and dancer.
She is known for her signature blue-colored hair and her self-created music genre called "Future ghetto punk". Originally from Port Elizabeth, the singer first came into limelight in the Durban poetry and music scene before relocating to Johannesburg.
She was born into a musical family, with her brother being a hip hop producer, her mother a jazz singer, and her cousins kwaito dancers. In 2006, Sanelly started performing in shows at Durban University of Technology with a key focus in poetry and hip hop, although she didn't actually call herself a poet for a long time until seeing people react.
She featured regularly on a weekend show on Gagasi FM, called Poetry with King Siso. Red Bull discovered her music through an EP she was featured on with DJ Shimza, which was eventually a part of the Soul Candi album.
In 2019, Sanelly was featured on Beyonce's The Lion King: The Gift album in the song "My Power" along with Busiswa and Nija.
Towards the end of 2019, she dropped her 4 tracks mini album project which she named Nude EP. She made a notable contribution on Our Culture, first track off Zingah's 2020 album.
Just before we get to playing the songs, here are Three things you should know about Moonchild Sanelly; She is a mother to three daughters and Her eldest daughter is also a musician. Sanelly is from the Xhosa tribe and uses the Xhosa language in her songs. She owns a Naked Club
No. 4: Makhe – DJ Maphorisa And DJ Shimza  feat. Moonchild Sanelly. In 2018, Dj Maphorisa teams up with Dj Shimza to feature Moonchild Sanel on the song "Makhe". The song is a fast-paced Durban-styled dance track with edgy lyrics that are sung in South African slang and isisZulu. 'Makhe' which is short for "makhelwane" means neighbour in isisZulu, and this edgy song speaks about a problematic neighbour who keeps making moves on Moonchild and who won't allow the people to dance.
No. 3: Container Remix – C-Kay feat. Zlatan and MoonChild Sanelly. Chocolate City producer/singer, Ckay unleashed a remix to his widely accepted single titled "Container" and features Zlatan and Moonchilld Sanelly. The song was released in December of 2018.
No. 2: Yebo Mama – Heavy K feat. Moonchild Sanelly. This feature comes from the  South African Drumboss, Heavy K.
Bonus: Bashiri (her own song).Bashiri is a song inspired by a woman's testimony in a church where the pastor is treated like a god whilst monetizing religion. People pay for 'miracle oil' whilst the pastor lands at the service in a helicopter, being treated like God himself despite taking money from his congregation."
No. 1: My Power – Beyonce feat. Tierra Whack, Moonchild Sanelly, Nija, Busiswa, DJ Lag & Yemi Alade. The song is the 23rd track on the lionKing Album and was produced by Beyonce, Dj Lagn and Moses Boyd.
You can follow Moonchild Sanelly's daily journey on Instagram.
(Visited 4 times, 1 visits today)