#AOTW – Biggest songs in 2020 worldwide so far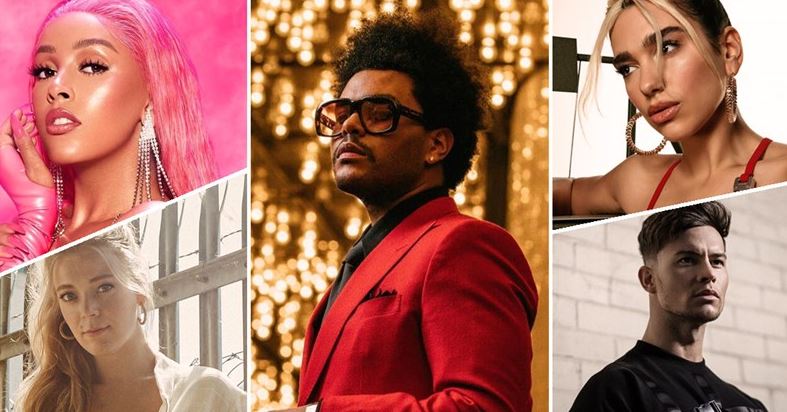 Toni Watson, known professionally as Tones and I, is an Australian singer and songwriter. Dance Monkey" was released on the 10th of May 2019 as the second single (first in the US) from Tones and I's debut EP The Kids Are Coming. The song was produced and mixed by Konstantin Kersting. The song topped the official singles charts in over 30 countries. It peaked within the top ten in many other countries, including the United States, at number four, where it also became the first top-five hit solely written by a woman in over eight years. Upon reaching its tenth week at the top of the Australian Singles Chart, "Dance Monkey" broke the record for the most weeks at number one on the chart by an Australian act, previously held by Justice Crew.
No. 4: DANCE MONKEY – TONES AND I (Australia)
Dance Monkey" also holds the record for the longest time at number one across Australian singles charts, with 24 weeks (including 21 consecutive weeks from August to late December 2019).
Michael Ebenezer Kwadjo Omari Owuo Jr. (born 26 July 1993), known professionally as Stormzy, is an English rapper, singer and songwriter. Own It" is a song by the English rapper featuring English singer Ed Sheeran and Nigerian singer Burna Boy, released on 22 November 2019 through #Merky and Atlantic Records as the fourth single from Stormzy's second studio album, Heavy Is the Head. It reached number one on the UK Singles Chart in January 2020, becoming Stormzy's third UK number one, and second as a lead artist. It is currently certified Gold in both Denmark & Australia and certified Platinum in UK.  The song was produced by Fred Gibson and Jay Weathers.
No. 3: OWN IT – STORMZY X BURNA BOY X ED SHEERAN (UK)
"Nobody" is the second single from Nigerian disk jockey DJ Neptune's forthcoming second studio album Greatness II: The Sounds Of Neptune. The song was released as a single on March 5, 2020. It was produced by Magic Sticks and features vocals from Nigerian singers Joeboy and Mr Eazi. Imohiosen Patrick is professionally Known as DJ Neptune, he is a Nigerian disc jockey and Record Producer. According to DJ Neptune, "When Joeboy voiced the hook on Nobody's beat, I already knew it was hit even before delivering his verse. Immediately I buzzed Mr Eazi up and told him I wanted him on a record and He said sure to send me the beat. Eazi heard the song and didn't hesitate to jump on it and in no time his vocals were in. This is how we created Nobody." "Nobody" is an Afrobeats-inspired take on Hip hop and was produced by Magic Sticks.
No. 2: NOBODY – DJ NEPTUNE x MR EAZI x JOEBOY (NIGERIA)
Bonus Track: JERUSALEMA – MASTA KG x Nomcebo (South Africa)
Abel Makkonen Tesfaye (born February 16, 1990), known professionally as The Weeknd, He is a Canadian singer, songwriter, and record producer. The song "BLINDING LIGHTS" serves as the second single of his fourth studio album After Hours released in 2020. The Weeknd wrote and produced the song with producers Max Martin and Oscar Holter.
"Blinding Lights" peaked at number one in thirty-three countries, including the United States and Canada, where it became The Weeknd's fifth number one single on the Billboard Hot 100 and the Canadian Hot 100 for four and seven weeks, respectively. It also became his first number one single in Germany for ten weeks, the United Kingdom for eight weeks, and Australia for eleven weeks, thus making it his most successful single worldwide to date.
No. 1: BLINDING LIGHTS – THE WEEKEND (USA). (Peaked at Number 1 on both Billboard top 100 for US and officialchart.com for UK)
Visit www.theboxshowafrica.com to read up more.
(Visited 9 times, 1 visits today)