It's all about Nigerian Alternative Vibes on our #AOTW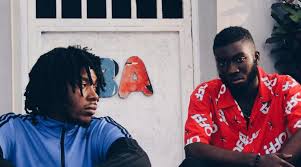 Today on our AOTW we take a break from mainstream music and head to Alte Town. We spotlight four Alternative artists changing the music narrative in Nigeria.
Alté means alternative and it defines the Nigerian youth known for creating, showcasing and promoting fashion styles and genre-bending music which strongly differ from the widespread standards.
Many Nigerian artists have self-identified as members of the 'Alte' scene, such as Odunsi The Engine, Santi, Zamir, Tay Iwar and WurlD. Outside of this prominent group, other Nigerian alternative artists include Lady Donli, AYLØ, Wavy the Creator, Prettyboy D-O and Tomi Agape, on the show today we spotlight our top four.
No. 4: Odunsi (The Engine)
Divine feat. Davido (Released in 2018 and produced by Harry)
Odunsi the Engine (born Bowofoluwa Odunsi) is an English-born Nigerian producer, songwriter and singer.
Odunsi the Engine is at the forefront of a new sound that blends genres into what he calls Afro-fusion. He has been making music since he was in his teens with production credits on several songs from a younger generation of Nigerian artists as well as the older well-known stars.
He released his first EP 'Time of Our Lives' (T.O.O.L) in August 2016. His second EP 'War' in 2017. Odunsi the Engine's third work titled 'rare.' released in 2018 is now at the top of many 'fresh out of Africa' listings across various platforms including Apple Music, MTV base and Sound Cloud.
No. 3: Pretty Boy Do
Wetin You Smoke feat. Olamide( released in 2020 off the Wildfire Album. The song was produced by "Telz")
Donald Ofik Le Omuora professionally known as Pretty boy D-O is a Nigerian entertainer born in Lisbon, Portugal on the 17th of April 1991. He fell in love with music at a very early age started writing songs in secondary school,
He first debuted as a rapper and went with the name KING D-O before transitioning into becoming a singer and taking on the name Prettyboy DO
No. 2: Santi
End Of The Wicked feat. Octavian( Released in 2020)
Born Osayaba Ize-Iyamu on the 3rd day of June 1992, He is an alternative rapper/singer from Nigeria who combines different genres of music to produce his unique sound. He grew up with a passion for music starting at an early age after listening to his dad's old records. He started acting at the age of 10 and went into music professionally at the age of 16. He started out originally by the name "Ozzy B" before rebranding and picking up the name "Santi". In an interview with GQ in 2019, Santi says "When I left high school in my late teens and I heard Drake's first album, Thank Me Later. Hearing someone sing and rap confirmed to me that I could do the same." His most recent single "End Of The Wicked" featuring Octavian is still buzzing and has fans leaving positive reviews online.
No. 1: Tems
TRY ME by Tems
Temilade Openiyi, known as Tems, is a Nigerian alt -R&B singer, songwriter and record producer born on the 11th of June, 1996. Her father was British, but her parents separated when she was five and she was brought up by her mum. At school she was noticed by her music teacher and she learnt the piano. She would practice singing with her brother's guitar. She attended Dowen College in Lekki and studied and graduated in economics in Johannesburg. In 2018 she recorded Mr Rebel – a song of her own composition. Her First major single "MR REBEL" was released in 2018 and she hit main stream with her Single "Try ME" in 2019.
There are loads of other alte vibes singers in Nigeria but for the sake of this week's AOTW, we decided to focus on these four. Check out other singers online.
(Visited 4 times, 1 visits today)