All the way to USA as Tattoo girl Jhene Aiko makes our #AOTW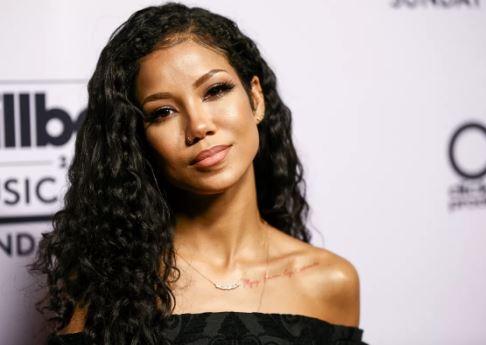 Jhene Aiko (pronounced "Juh-nay Ahh-ee-ko")
Oh My gosh, her body is covered in tattoos! She is Juh-nay Ahh-ee-ko! She is best known for her hit albums: Souled Out of 2014, Trip album of 2017 and the 2016 collaboration with Big Sean on Twenty88. She has a new album out in March as well and it's already a big bang. The American singer, song writer, Grammy nominated artist will be serenading us with some brain boxing tune today on the show. Aiko can be emotional sha o. If you are a fan, you already know! Her music and lyrical content have both been described as being "catchy and emotive" but majorly covers the R&B, Hip-Hop, and Rap genres. She says her musical style is "alternative" and a "new-generation R&B". According to Aiko, she writes music every day-she also describes her writing style as "freestyle" because that's how she put her lyrics together when writing her songs.
Jhené Aiko Efuru Chilombo was born on March 16th 1988 (32) in Los Angeles, California, USA. Her pediatrician father, Dr. Karamo Chilombo is of Afro-American and German descent while her mother Christina Yamamoto is of half-Japanese and Spanish descent. Her parents divorced when she was young. So she stayed in the company of her mother among other four older full-siblings-one of them Miyagi, sadly died of cancer in July 2012. She has three other paternal half-siblings. Jhene was raised in a family with a musical background. Two of her older sisters were already established singers in the R&B musical group 'Gyrl'. So, that influenced her interest in music as a little girl. Apart from her sisters, she has many other major artists including Brandy that influenced her by listening to their music while growing up.
She was home-schooled until high school. She took vocal lessons in Culver City, California but quit when she unexpectedly got pregnant and gave birth to a baby girl named Namiko Love Browner at age 20. Earlier at age 5, Jhene showcased her singing talents to producer Chris Stokes of the R&B group B2K (Boys of the New Millennium – an American boy band formed in 2000 by Stokes). At 7, Aiko started writing rap songs. At age 12 or in her early teens, she became a part of the B2K band as a vocalist and signed with Epic Music then also. While with B2K she was known as member Lil' Fizz's "cousin", though she is not actually related to him. It was used as a marketing tool, suggested by Sony and Epic Records, to promote Aiko through B2K and attract an audience. Just when Aiko was set to launch her debut album – 'My Name is Jhene' through Sony, The Ultimate Group, and Epic in 2003, she left her record label Epic Music due to differences.
The album was never as she decided to return to school to continue education instead. After finishing her studies, she returned to music in 2011 and released her first mixtape Sailing Soul(s) in March 2011 via her official website, JheneAiko.com. The mixtape featured a series of high profile collaborations, including songs with Kanye West, Miguel and Drake among others. Sailing soul(s) according to Aiko just means staying true to yourself and go with what you feel. It was conceptualized after Aiko's had met with a label where she was told that they loved everything about her but she would have to sell herself.
In 2012, the American hip hop and R&B music producer No I.D signed Jhené to ARTium Records imprint through Def Jam and Aiko dropped the track "3:16AM". It preceded her debut EP – Sail Out that was later released in November 2013. Before the EP, Aiko was featured on the Big Sean song "Beware" in June 2013 which became her first song to chart on the US Billboard Hot 100. Here is a track from Sailing Soul(s) mixtape of 2011. The mixtapewas nominated for Best Urban Contemporary Album at the 57th Annual Grammy Awards in 2015. She was on "Twitter one day and said something about selling your soul" and Chase N. Cashe said, 'Oh that would be a nice name for an album." And everything started happening after that"). "I'm not a slave to anyone; I'm sailing my soul instead of selling it." she says.
No. 4: Sailing NOT Selling feat Kanye West (features a verse from Kanye West. Lyrically the song attacked "a hot topic in music" at the time of release according to Aiko)
Finally, in September 2014, Jhené Aiko dropped her debut studio album 'Souled Out' – her first major project. The album debuted at #3 on the US Billboard 200 and at #1 on the US Top R&B/Hip-Hop Albums and the US R&B Albums charts. It made MTV's list of "Most Anticipated R&B albums of 2014 among others. Its lyrical contents revolve around relationships, life lessons, philosophies and truths. During the recording of the 'Souled Out' EP Aiko said she took a large amount of influence from hip-hop and rap music. In an interview with fuse.tv in March 2018, Aiko disclosed that: "Souled Out basically means to have so much soul that you're just sailing…You're free to be yourself" She says."It just means the total opposite of being a sellout. It's being so much of yourself that you are confident in expressing yourself and being honest about who you are."
In April 2016, a collaboration album title 'Twenty88′ between Jhene and rapper Big Sean was released. It's an 8-track album.  In September 2017, she released her second studio album Trip also via ARTium and Def Jam Recordings. The album dropped three years she had dropped numerous non-album singles. During the recording of the album Aiko opted to mostly freestyle when writing the album. Aiko stated that she wanted to create an album to showcase all of her personalities and express them. The album also debuted at #4 on the US Top R&B/Hip-Hop Albums chart.
Trip, the album was certified gold by the Recording Industry Association of America (RIAA) in November 2018, for combined sales and album-equivalent units of over 500,000 units in the United States. The album was inspired by different kinds of trips Aiko has experienced including mental, physical, and psychedelic. It is packed with more of self-discovery than "churning out a hit" (pitchfork.com). She just wanted to take audience on a journey to feel what she went through. Songs like "OLLA (Only Lovers Left Alive)", "Sativa" ft Swae Lee, "Sing to Me," featuring her daughter Namiko Love some have some dope vibes. We gonna jam out of them at #3. At #2, we pick "Triggered (Freestyle)"off her third and latest studio album, Chilombo that was released on March 6, 2020. In the week of release, Aiko took over as the week's No.1 Female Artist on YouTube, with over 21.5 million cumulative views That was huge, wasn't it? How about now?
No. 3: "Sativa" ft Swae Lee (has some party feel. It has some bittersweet vibe).
No. 2: Triggered (Freestyle) (Platinum-certified single off her third album, Chilombo that dropped on 6 March 2020. Aiko brilliantly captures so many emotions in the song fuming over reminders of the old relationship with Big Sean.  The song has been named song of the year by The Associated Press' Music Editor Mesfin Fekadu in 2019)
J.Hennessy- Aiko's alter-ego (off her EP 'Sail Out' and Jhene has said that the inspiration came from the fact she has twelve "different personalities in my head" every day) Aiko places great importance on writing her music, believing it defines her as an artist. She once mentioned in an interview she makes "music for healing purposes…It's like journaling or when people paint. It's sort of an escape."
Before tipoff, we jammed you… #2 Triggered (Freestyle) – one of the first five singles released ahead of Chilombo the album in 2019. Do the lyrics truly depict all the makings of a diss track? We'll touch on that when we talk controversy shortly? Well! Aiko's latest album Chilombo does not only mark the highest-selling album of her career, but also has the honour of being the biggest album debut from a female R&B artist since Beyoncé's massive 2016 LP, Lemonade. I doff my headgear Jhene!
Aiko plans to embark on an extensive North American tour in support of Chilombo. At the time of Chilonbo in March, tickets for the tour were on sale. We all know what's been in the world – COVID-19 for over 3 months anyway, so you may just follow her update to know more on what is up to this 2020.
No. 1: The Worst
It's a platinum certified song off her debut studio album of 2014. In May, 2014, the song reached the No.1 spot in US Billboard R&B /Hip-Hop-Airplay category and peak at #11 on the US Hot R&B/Hip-Hop songs. In 2015, the song was nominated for the Grammy award under the category Best R&B Song. She didn't win but previously won the Centric Award category at the 2014 BET Awards. That year, the song also won the BET Award centric award category. It was nominated for Soul Train Music Awards-Video of The Year, The Ashford and Simpson Songwriter's categories as well.
ALBUMS
She has 3 albums out: Souled Out (2014), Trip (2017), Chilombo (2020), 1mixtape, 1 EP and a collaboration album Twenty88 (2016) with Big Sean
AWARD & NOMINATIONS
According to billboard.com, Aiko "received her first three GRAMMY nominations for 2014 — Best R&B Song for "The Worst," Best Urban Contemporary Album for Sail Out and Best Rap/Sung Collaboration for her vocals on "Blak Majik" alongside Common". She has been nominated for the American Music Awards and BET Awards and Soul Train Awards in 2014, Grammy Awards 2015.
FACT
She sang for B2K's debut video album of 2002, which won a BET Award.
Aiko's main musical influence is Brandy. She "fell in love with her voice" when she was "six years old" adding that she taught her how to sing "indirectly". Tupac is her biggest influence. The singer/rapper has also credited Kendrick Lamar, Eminem and Kid Cudi as big inspirations. Apart from Brandy, she has many other major artists that influenced her growing up. Some of them include R&B band TLC, Lil' Kim, Sade Adu. She also listens to Beyoncé to learn from her vocal technique.  Her vocals have been compared to those of R&B singers Cassie, Brandy, Ciara and, the late Aaliyah
She compares her style to the style of Frank Ocean, Miguel and Drake. She said John Mayer is "probably" one of her "number one musical influences because of his writing ability and his voice.".Aiko revealed that whilst writing music she enjoys being high in order to use the feeling as inspiration. That played out during writing and recording process of her debut mixtape Sailing Soul(s), she was under the influence of cannabis.
Before launching her own hugely successful music career, Aiko appeared in numerous music videos for other artists including R&B singer O'Ryan's debut release. They both dated and had her first child Namiko together.
CONTROVERSY
She was once married to music producer Oladipo Omishore aka Dot da Genius from 2014 until 2017. Aiko filed divorce proceedings against Omishore, citing irreconcilable differences. She began dating Big Sean in October 2016. In March 2018, Big Sean was reported to have cheated on Jhené Aiko with Nicole. They split in March 2019.
In May 2019, Jhené Aiko's freestyle song Triggered was reported to be about Big Sean. Some said it's a diss track. Because it was released in 2019 months after confirming she and rapper Big Sean had split in 2018. Aiko took to Twitter to explain that "Triggered" is not a diss, but rather "a moment of talking shit out of frustration and passion." In April 2019, Aiko dropped a message on Sean's Instagram, referencing lyrics from her "Triggered" freestyle.
Checkout other interesting articles on our pages.
(Visited 7 times, 1 visits today)