The 'Whipped" crooner Tellaman all the way for South Africa sits on our #AOTW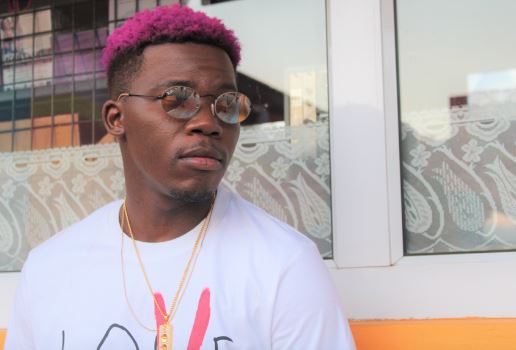 Thelumusa Samuel Owen born 14 April 1991 in Durban, South Africa, better known by his stage name Tellaman is a South African singer, songwriter and record producer. Growing up in a musical background, he is most known for a number one charting single by DJ Speedsta titled Mayo which features himself, Yung Swiss, Frank Casino & Shane Eagle.
The development of his unique style is the result of a lifetime of musical influence. Growing up in a talented musical background meant that Tellaman was always surrounded by different forms of music and his parents exposed him to a wealth of music as a child, all of which influenced his development.
Tellaman is a self-taught amazing musician; he started doing music at the age of 15 years in 2006. Beat Making was his starting point after his mother had him singing at home, at church and in a youth choir. In 2008 he decided to pursue music as a career, and began writing and recording his own music at his bedroom studio.
As his confidence grew and his style developed, he soon began to showcase his talent to various venues across South Africa, playing at numerous gigs e.g. Club Boulevard, Delasol, 47th Avenue, Taboo, Bahamas and many more. His loyal following began to grow, and he became a popular local hit in Durban music scene. His talent with a variety of musical instruments only added to his appeal, and his unique sound with a twist started to find an appreciative audience.
Our no. 4: Drinks & Music (feat. Okmalukoolkat) is from his disc titled Ntsikelelo.
Tellaman was signed and featured in Soul Candi Record's compilation album titled Soul Candi Sessions 15, alongside MoFlava, Lulo Café, Cueber and Hareal Salko. Tellaman's disc, titled Ntsikelelo, included hit singles "Drinks and Music" featuring Okmalumkoolkat and "Intoxicated" featuring Lastee. The album sales passed Gold status and it was nominated for the Best Compilation Award at the 2015 Metro FM Awards.
In June 2016 his EP Mind Vs Heart was released, followed by another EP titled Lucid Dreams which was released in February 2017.
No. 3: Noma Kanjan' (feat. Nasty C) which is a non-album single
No. 2: S.A.P (feat. Nasty C & Da L.E.S). Peaked at no. 29 on South Africa EMA (The airplay music charts in South Africa are gathered and published by the company Entertainment Monitoring Africa (EMA), formerly known as Mediaguide South Africa).
Album Title
Album Details
Soul Candi Sessions 15
·         Released: 2 December 2014

·         Label: Soul Candi Records

·         Formats: Digital download, CD

Mind vs Heart[7]
·         Released: 10 June 2016

·         Label: Select Play Music

·         Formats: Digital download

Lucid Dream
·         Released: 3 February 2017

·         Label: Tellaman Music

·         Format: Digital Download

God Decides
·         Released: 1 February 2019

·         Label: Universal Music Group

·         Format: Digital Download, C
CONTROVERSY.
In October 2018, Tellaman finally spoke out on an alleged DM between himself and Nasty C's protégé Rowlene that suggested the two maybe caught in a love affair, saying the star did deserve better than to be dragged into controversy. The No Excuses hitmaker made headlines recently when an alleged screengrabs of a conversation supposedly between himself and Rowlene was shared on social media where the pair appear to be discussing their relationship and his relationship with a girl called Nandi. Rowlene and Tellaman have worked together on several projects including DJ KillaMo's On Some and Rowlene's Stay. Although Rowlene told TshisaLIVE that she was happily single and not really looking, Tellaman seemed to go to ground. His Twitter account was inactive for two weeks until his record label tweeted on Tuesday claiming he had been hacked. His Record Label eventually Tweeted on 9th October 2018 "We've successfully recovered @TELLAMANWORLD's Twitter account" to which Tellaman responded with "I'm back!!!!! God's been good bruh! middlefinger to whoever did this.."
But that wasn't enough for fans who wanted an explanation on those screengrabs.
The star didn't go into detail on the chat or even whether it was real. Instead he told fans that he hoped the incident did not affect Rowlene or Nandi and claimed they deserved better. Tweeting "I just hope all this didn't affect Rowlene and Nandi in a bad way, I know how hard they work and they deserve way better"
Curled from timeslive.co.za.
Away from that…
On 1 February 2019, Tellaman released his fourth album God Decides, followed by lead single "whipped" featuring Nasty C and Shekinah.
Speaking to TshisaLIVE as his song continued to top radio charts, Tellaman explained why he wanted to keep his love life and muse to himself for the moment.
"I am not single. There is someone I am seeing, even though I'd like not to share it at this point. She's really cool and she's my friend.
"We haven't really spoken about it (telling the world about us) but there hasn't been any problem when people spot us together. I just don't feel like it's a cool thing to just put it out there, just because… or for popularity or for desires to be called power couple or whatever. That's not where my head is at. If people organically know about us then that's fine and if they don't that's also okay," he said.
Whipped was written when the singer was in a different space and it tells a story of his past relationship.
Speaking, Tellaman said "When it comes to love songs, I have to relate to it somehow. But specifically for Whipped and the whole project, it's based on what was happening in my life at that time, when I was making the music. There was someone I was writing for. The whole project is like a short story of what happened when I met that person and when the fall out happened and we stopped seeing each other."
He admitted that he's clearly whipped but said as it stands he's not willing to publicise his love life.
"First of all for an R&B song in SA to do this well has been amazing to watch. It's been better than I expected and that's why I've been pleasantly surprised by the reception me, this song and this album have been getting.  R&B is not as big for local artists in SA but this has shown me that there's room for a sound like this."
Take a listen to our no. 1. Song – Whipped (feat. Shekinah & Nasty C). From the Album GOD DECIDES released on February 1, 2019 under the Universal Music Group label both on digital download and CD format. It charted on the no. 1 spot on South Africa EMA upon its release in 2019.
Guys, we are out of the studios. Don't forget to visit www.theboxshowafrica.com to download songs and read up stories. Also follow us on all our social media platforms @dboxshowafrica on Twitter and Instagram and theboxshowafrica on Facebook. Also follow our personal social media handles.
Stay safe, wash your hands, wear your facemask to protect you and others against the virus and stay healthy! Bye!
(Visited 4 times, 1 visits today)