Multiple Suicide Attack In Maiduguri Leaves At Least 18 People Dead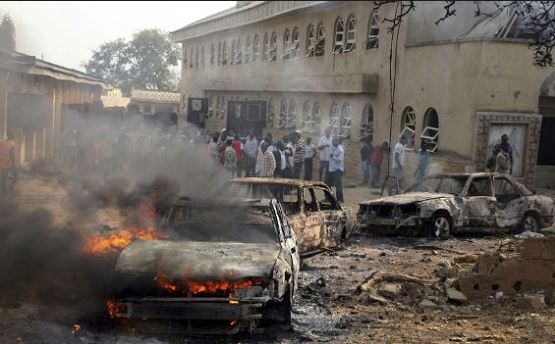 No fewer than 18 persons have been confirmed dead in a multiple suicide attack that happened in Maiduguri, Borno state last night. Four suspected Boko Haram suicide bombers, two males, and two females, sneaked into Muna Gari community in Maiduguri, Borno state at about 8pm and detonated Improvised Explosive Devises strapped to their bodies at different locations in the community.
The state police Public Relations Officer, Victor Isuku, who confirmed the incident, said that the first explosion occurred at a prayer ground, followed by the other explosions all within the community.
"A total of 18 persons including the four suicide bombers, died in the multiple explosions," the Police PRO said in the statement, adding that those who sustained injuries were rushed to University of Maiduguri Teaching Hospital/State Specialist Hospital for treatment.
Source: News agencies
(Visited 6 times, 1 visits today)