Senate Committee Reveals "Leakage Channels" As The "Major Sources Of Revenue Losses" In Marine Transport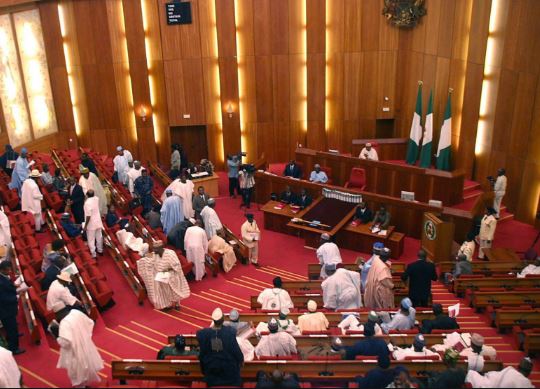 The Senate Joint Committee on Customs, Excise, Tariffs and Marine Transport has requested for additional eight weeks to carry out its investigations on leakages in the sector adding that it had recovered over N140 billion in the course of assignment.
It had earlier identified 32 "leakage channels" as the "major sources of revenue losses" in the import and export business. The committee made this request on Wednesday while also disclosing that it had recovered over N140 billion from banks and companies following its probe into the alleged loss of N30 trillion in Nigeria's import and export value chain.
It, however, said the banks and companies currently under investigation represented less than one per cent of the entire import and export value chain. This was revealed in a report presented by its chairman, Samuel Anyanwu, who explained that some banks had remitted N128 billion to the CBN, while some of the 60 companies investigated made voluntary payments of N12 billion into federal government's coffers.
" As a result of this exercise, some collection banks have made additional remittances to the Central Bank of Nigeria to the tune of N128 billon and evidence of payment and receipt has been received by the committee. "From the selected 60 companies, over N12 billion payment have been made to the government voluntarily by the companies based on their internal self-audit after receiving documented evidence of their culpability from our committee. "It is instructive to note that despite all the payments so far made, none of the approved collection banks or the selected companies has fully cleared the established liabilities against them", the committee chair said. The committee further explained that these infractions within the system disproportionately distort the economic profile of the country and place extensive pressure on the nation's scarce foreign exchange.
It added that the acts also negate all Central Bank of Nigeria initiated foreign exchange management plans" because a distorted forex requirement does not essentially reflect the actual forex needs of individuals and businesses in the country." "This situation benefits only the purveyors of capital flight from the country and adds absolutely no value to the nation," the chairman added. The probe followed the adoption of a motion titled, 'Urgent Need to Examine the Operations of the Nigeria Customs Service Revenue Drive' on November 15, 2016.
The Senate had mandated the committee to carry out a holistic investigation into the activities of the service "with a view to identify the leakages and irregularities as well as the causes of the declining revenue profile of the service and come up with recommendations that will reinvigorate the revenue of the Nigeria Customs Service." Meanwhile, the committee said all the recovered funds had been deposited with the CBN.
The majority leader, Godswill Akpabio, urged the lawmakers to give the committee more time to carry out the probe, considering the amount of money it claimed to have recovered.
Source: Premium times
(Visited 3 times, 1 visits today)