Panic In Ondo State After Reports Of Soldiers Forcing Monkey Pox Immunisation On Pupils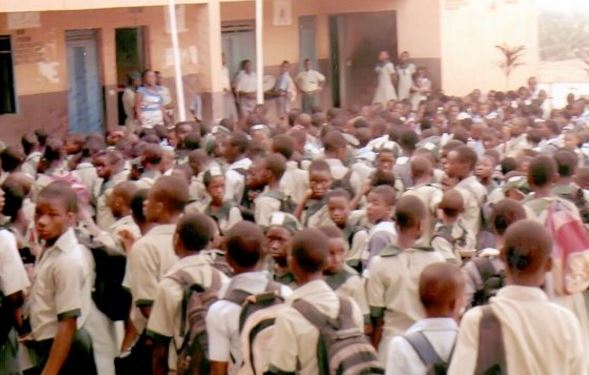 Pandemonium broke out across Ondo State, yesterday, as parents trooped to schools in search of their children and wards, following reports of forced anti-Monkey Pox immunisation. Reports had it that some soldiers were going around to force pupils in schools across the state to be immunised. Parents were seen in their thousands, hurrying home with their wards along the major roads in Akure, lkare, Ondo and Owo.
Even wards in boarding schools were forcefully taken home by their parents, following the development. Schools visited by Vanguard, which were under lock and key because of the development, included Aquinas College, Akure; Fiwasaye Girl Secondary School; Becky Parker College, and Christ the Redeemer Secondary School, Akure. Parents pull down gates Parents from different towns in the state converged on schools, forcefully pulled down the locked gates, got in and picked their wards. Those that could not gain entry into the schools had a shouting match with the security men at the gates, threatening to force their way through the fence. Similarly, parents who stormed primary schools in some areas actually scaled fences and forcefully withdrew their wards from classrooms, even as appeals from principals were ignored. Govt's statement
However, the Commissioner for Information and Orientation, Yemi Olowolabi, described the report of forceful vaccination as unfounded. He said in a statement: "The attention of Ondo State Government has been drawn to a rumour in circulation that a forced vaccination exercise is being conducted around schools in the state, with panicking parents withdrawing their wards from schools. "The state government wishes to inform parents, students, teachers, school authorities and the general public that the rumour is baseless, unfounded and should be disregarded. Real time investigations across Ondo State have shown that none of such things exist.
"The state government, therefore, advises the public, schools, students and teachers to go about their normal activities." Army denies vaccination rumour Also, the Assistant Director Army Public Relations, 32 Artillery Brigade, Major Ojo Adenegan, described the report that soldiers were giving poisonous vaccine to children and students of primary and secondary schools in Ondo State as fake. According to him, "we are using this medium to inform the general public to disregard such information. There is no ongoing medical outreach in Ondo State. "We also appeal to the general public to help give useful information on any person or group of persons who are behind this malicious information against the military." Police In the same vein, state Police image-maker, Femi Joseph, described the incident as a wild rumour, noting that "it was an unnecessary apprehension created by mischievous people just to create panic and tension in the society." He advised the public to desist from peddling rumours.
Source: Vanguard
(Visited 9 times, 1 visits today)