United Star Paul Pogba May Be Out For 6-Weeks After Ending Game In Crutches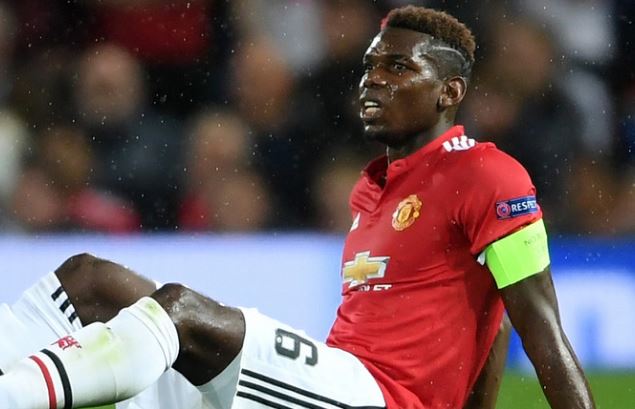 Paul Pogba left Old Trafford on crutches amid fears the Manchester United star could be out for up to six weeks. Pogba suffered a hamstring injury as United made a winning return to the Champions League, but angered boss Jose Mourinho with their casual approach.
Goals from Marouane Fellaini, Romelu Lukaku and Marcus Rashford gave United a comfortable win, but Mourinho accused his players of indulging in too many tricks when 2-0 up and taking their foot off the gas. "We made bad decisions," said Mourinho. "Fantasy football, Playstation football, tricks – and when you stop to play as a team and when you stop to play seriously, I don't like and you gamble a little bit.  "Probably the players felt that the game was under control with the 2-0 lead, but football is football and you have to respect your opponent. "Until 2-0 we played it very stable, with confidence, with patience, with good choices and we played, I'd say, quite well.
"After the 2-0 I think everything changed and we stopped to play, stopped to think and stopped to play seriously. "We stopped to make the right decisions on the pitch and we could put ourselves in trouble, but they didn't score and the third goal came." Pogba, skipper for the night, was making his Champions League debut for United, but pulled up in the 17th minute, unable to play any further part in the game.
Mourinho said he was unable to put a timescale on Pogba's injury, but the fact the midfielder left the stadium on crutches suggests he could be side-lined for several weeks.  "By experience, just from looking and feeling it, I think it's a hamstring," said Mourinho. "Big? Small? I don't know, but a hamstring for sure. "Squads are for this, squads are for injuries, squads are for suspensions. We don't cry with injuries. "So, if no Paul for Sunday, we have Ander Herrera, we have Michael Carrick, we have Fellaini and we have Nemanja Matic."
Source: Mirror sport
(Visited 1 times, 1 visits today)