Next Weather Disaster: Hurricane Irma On Course To Hit The Caribbean Islands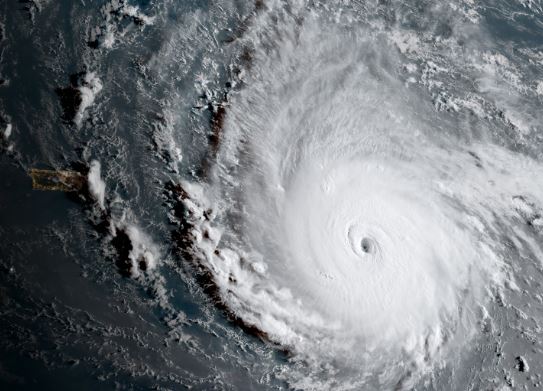 Hurricane Irma, a category-5 storm described as the strongest Atlantic hurricane on record, passed over the Caribbean island of Barbuda on Wednesday, and is on course to hit Florida, US. Irma, which reached the highest category of 5, has a maximum sustained wind speed of 295 kilometres per hour (kph).
CNN had reported on Friday that Hurricane Irma could be next weather disaster, worse than Hurricane Harvey that hit Texas in August. The storm is expected to continue moving west-north-west at 24 kph for the next couple of days and is on a trajectory that would likely take it over other Caribbean islands before threatening Florida.
"The combination of a life-threatening storm surge and the tide will cause normal dry areas near the coast to be flooded by rising waters moving inland from the shoreline,'' the US National Hurricane Centre (NHC) said in its latest advisory. "Some fluctuations in intensity are likely during the next day or two, but Irma is forecast to remain a powerful category 4 or 5 hurricane during the next couple of days.'' The "extremely dangerous core'' of Irma would move over parts of the Leeward Islands in the early morning hours before passing over the Virgin Islands and close to Puerto Rico later.
The centre recommended that residents of the Dominican Republic, Haiti, Cuba, the Bahamas and Florida monitor the storm's development. According to Phil Klotzbach, a tropical scientist at Colorado State University, Irma is just the fifth Atlantic hurricane to have maximum sustained winds of 295 kph or greater, He said it comes on the heels of Hurricane Harvey, which developed into a category-4 storm in the Gulf of Mexico before slamming into Texas.
Source: CNN
(Visited 4 times, 1 visits today)