Exclusive: Inside Look On The Life Of The Canadian Sensation 'Shawn Mendes'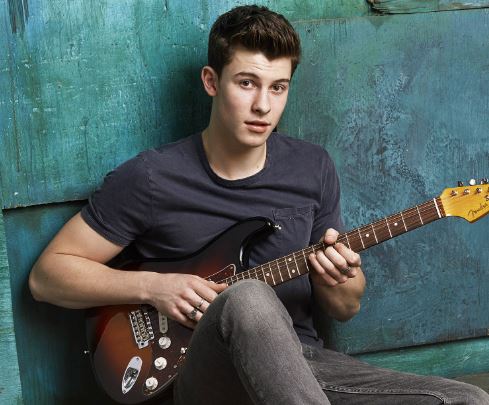 His first claim to fame was the creation of short clips of famous songs which received millions of views online. He never looked back after that initial success and with the help of his record producer released his first single – 'Life of the Party' in 2014.
This single made him the youngest artist to break a single into the Top 25 of the Billboard Hot 100. He added modelling to his resumé after signing a contract with top agency Wilhelmina Models in 2016. Other superstars on the platform are: Nick Jonas, Demi Lovato, most recently Nicki Minaj and Shawn Mendes. 19-year-old Canadian singer and songwriter, Shawn Peter Raul Mendes.
Born in Toronto, Canada to a mother who was a real estate agent and a father who was a businessman. He is of mixed ancestry with his mother being English and his father of Portuguese origin. Speaks Portuguese, English, and French fluently.
Mendes was recruited into "Magcon" with many other entertainers. The following year, he caught the attention of artist manager Andrew Gertler and Island Records A&R Ziggy Chareton which led to him signing a deal with the record label.
These initial successes resulted in the sale of thousands of copies of his debut EP and also won him his first Teen Choice Award in 2014. In early 2015, Mendes's fame grew further when he released his new album-'Handwritten' which skyrocketed to the top of the Billboard 200 chart selling over a 100,000 copies in its first week.
He was listed among Time's The 25 Most Influential Teens in 2014 and 2015. This further emphasized the growth of his stardom. Towards the end of 2015, Mendes teamed up with Camila Cabello to release a track together called – 'I know what you did last summer.' There were several rumors of the two dating which was majorly in the news.
NUMBER 4: I know what you did last summer
Talks of Shawn dating his collaborator Camila Cabello often make the rounds though he has repeatedly denied that the duo is dating.  Being a rapidly rising young star, Shawn Mendes has also been involved in several controversies. To promote the sales of his album – 'Handwritten', Shawn Mendes encouraged people to buy the album from the stores directly rather than online—for a small chance to meet him.
This act was considered by many groups as "unethical" and "exploitative" on his part to enhance album sales.
He had already become a household name and his fame increased further through his single – 'Stitches' which hit number #4 on the Billboard Hot 100 and became the first single that Mendes had got into the Top 10 of the Billboard Hot 100 in his career.
NUMBER 3: Stiches
He again courted controversy with the launch of his video 'Treat You Better' which focuses on relationships affected by abuse.
The video resulted in more than six million views within a few days and was very popular. Mendes encouraged people to look past the dark aspects of his video but the video generated controversy nonetheless.
The video was also heavily criticized for focusing too much on domestic violence and Mendes justified that the focus of the video was more on relationships and not so much on the violence within them.
Through the first half of 2016, Mendes was working on and proceeded to subsequently release his next single 'Treat you Better' which was part of his studio album 'Illuminate.'
NUMBER 2: Treat you Better
As of 2017, Shawn claims that he is single and he had no serious relationship yet. However, he was rumored of dating many girls, including Lauren Giraldo, Bethany Mota, Camila Cabello, and even superstar Taylor Swift. Was on tour with Taylor Swift in 2014 and after that, rumors emerged about the two being in love.
None of these rumors were confirmed.
He also said that his celebrity crushes are Emma Watson and Rachel McAdams. Taking into consideration Shawn's openness and honesty when it comes to answering questions about his sexual experiences, we can say for sure he is not lying about being single.
NUMBER 1: There's Nothing Holdin' Me Back
In 2014, Shawn launched a campaign against depression and low self-esteem. He also helped to raise money to build a school in Ghana.
Shawn Mendes donates $100k to Mexican earthquake relief
Canadian singer was in Mexico City preparing for show when 7.1 magnitude quake hit Sept. 19, escaped safely.
Shawn Mendes has launched an online fundraiser to help those affected by the Mexican earthquake just days after he escaped safely from the quake ahead of a planned show in Mexico City, an incident he called "pretty scary."
The Canadian singer-songwriter and his manager, Andrew Gertler, have gotten things started with a $100,000 US donation to the fundraiser on GoFundMe's Crowdrise platform. The money will go "directly to disaster relief in Mexico" via American Red Cross.
Mendes has received several awards and nominations, including two MTV Europe Music Awards, four iHeartRadio Much Music Video Awards, and the Allan Slaight Honour from Canada's Walk of Fame.
In 2015, Mendes was the recipient of the Breakout Award at the SOCAN Awards in Toronto.
BONUS TRACK: 'Life of the Party' & MERCY
Young, good-looking, highly talented, dashing and well-built with a charismatic personality. A teenage singer also known for his confidence and poise on the stage. Leveraging on his chocolate-boy looks, he has taken on modeling contracts and signed up with modeling agencies to complement his singing career.
(Visited 16 times, 1 visits today)