EFCC Discovers Suspicious Assets Purportedly Own By Ex- First Lady Patience Jonathan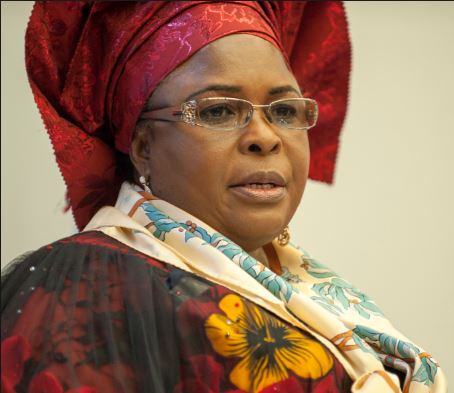 The Economic and Financial Crimes Commission (EFCC) has reportedly discovered suspicious assets owned by Patience Jonathan, wife of ex-President Goodluck. The assets are said to be proceeds of money laundering. The commission is said to have initiated moves to seize the assets, which include six plots of land located in the Central Business district, Abuja; Wasa district, Idogwari district, Karsana and Mabushi in the FCT.
They were allegedly bought through the help of three firms including Ariwabai Aurera Reachout Foundation, Finchley Top Homes Limited, and AM-PM Network Limited. A special task force has been set up by the anti-graft agency to investigate the roles of the firms as well as that of seven banks in the acquisition of the assets. According to The Nation, an EFCC source said: "A special task force is looking into how Mrs. Jonathan allegedly laundered huge sums of money into the accounts of three companies. These shell firms were in turn used to acquire some plots of land and properties suspected to be proceeds of crime. "We have already written to the Corporate Affairs Commission(CAC) and seven banks linked with the plots of land and the two properties.
"Apart from the statements of account of the three companies., our team is in touch with Abuja Geographical Information Service(AGIS) for information about some properties linked to the affected firms. "We discovered that on Plot No. 1758 Cadastral zone B06 Mabushi, which was allocated to Ariwabai Aurera Reachout Foundation in 2010 and C of O issued in 2011, eight mighty buildings are being built. Most people believe it is proposed to be a hotel. "Also, Plot No. 1350, Cadastral zone A00 in central business district, currently bears an eight-storey building still under construction. The plot was allocated to Ariwabai Aurera Reachout Foundation in 2010 and C of O issued in 2011.
"Inference may be drawn from the above, considering the fact that the suspect's last known official position was permanent secretary in the Bayelsa state government. "It is evidently clear that it is a case of money laundering but there is need to do more to prove the predicate of the offence." The discovery makes it a total of 15 properties and six plots of land that have so far been traced to the former first lady in Port Harcourt, Yenagoa and Abuja.
Source: the cable
(Visited 4 times, 1 visits today)