Access Bank Withdrew N852m UBE Funds After Ekiti Government Failed To Fulfil Loan Terms – Kayode Adejuyigbe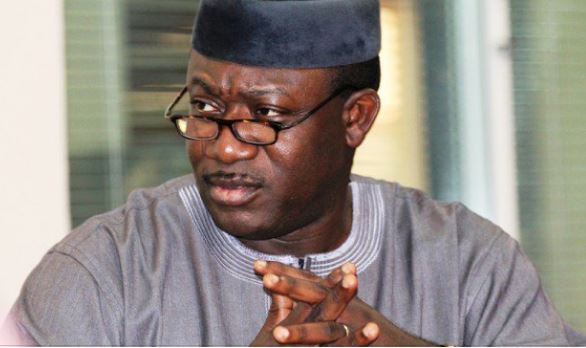 Kayode Adejuyigbe, branch manager of Access Bank secretariat road, Ado-Ekiti, has told a panel probing the alleged mismanagement of N852 million Universal Basic Education (UBE) counter-part fund that his bank withdrew the funds. The aforementioned sum is a counterpart fund to finance projects being carried out by the state government through the State Universal Basic Education Board (SUBEB).
The panel which is led by Silas Oyewole, a former chief judge, is probing Kayode Fayemi, minister of solid minerals and development, whom Ayodele Fayose, governor of Ekiti, accused of embezzling the funds while he was governor. But while testifying before the panel, Adejuyigbe said his bank withdrew the N852 million counterpart fund because the government did not fulfil some terms in the loan. He also said a sum of N71,704,020.00 was paid into the account of the state government as refund of excess interest charged on the fund. "I know and can confirm that N852,936,713.92 was lodged into the 2012 SUBEB/UBEC project account on 25th November, 2013 and I am aware that it was a project counterpart fund required by SUBEB to access 2012 matching grant from the federal government as stated in the offer letter," Adejuyigbe said.
"It was lodged based on the rules of the bank and it was lodged into the account of Ekiti state government and later transferred to SUBEB. "At the point of lodgement to the state government, some documents were outstanding based on the offer letter executed which contains all the terms and conditions binding, the loan was duly accepted by officials of government and the loan was disbursed. "The same amount was disbursed by the federal government on 25th January, 2014 but we did our own on 25th November, 2013. At the time the money was disbursed, our own (counterpart fund loaned to Ekiti state government) was in the account before the FGN/UBEC disburse their own in January 2014." Adamu Misau, an assistant director of finance and account, also told the panel that the N852 million cash was withdrawn by Access Bank on October, 8 2014. He said Fayose wrote a letter dated April, 22 2015 urging UBEC to investigate the matter and asked the agency to rescind its decision, stopping Ekiti from further accessing the funds.
Sunday Bamise, counsel to Ekiti SUBEB, also told the panel that they notified the commissioner of finance "about the action of reversing the (N852 million) facility." "Ekiti SUBEB was fully aware of the transactions, they were copied letters from the bank. SUBEB was aware of all what transpired based on the letter written by SUBEB which we responded to and several cheques issued by SUBEB into the same account," he said. "I am aware that cheques were issued to SUBEB contractors, we provided the counterpart funding to SUBEB because they were meant to access the matching grant which the bank provided. "The facility was granted to Ekiti state government and not SUBEB, our correspondence was to the commissioner for finance. The bank has the right to recall the loan once the terms of the offer are not met. We don't need the consent of SUBEB to withdraw the cash because the agreement was with Ekiti state government and not SUBEB."
NAN
(Visited 2 times, 1 visits today)